Spiritual Care & Chaplaincy
Mason Health's Volunteer Chaplain Program offers spiritual care to patients and families. Patients and families may request the services of a chaplain while they are admitted at Mason General Hospital, from a nurse or other medical staff.
Mason General Hospital
Address 901 Mountainview Drive, Shelton, WA 98584
Interested in becoming a chaplain at Mason Health?
Contact Volunteer Coordinator Iris Hilburger by emailing ihilburger@masongeneral.com.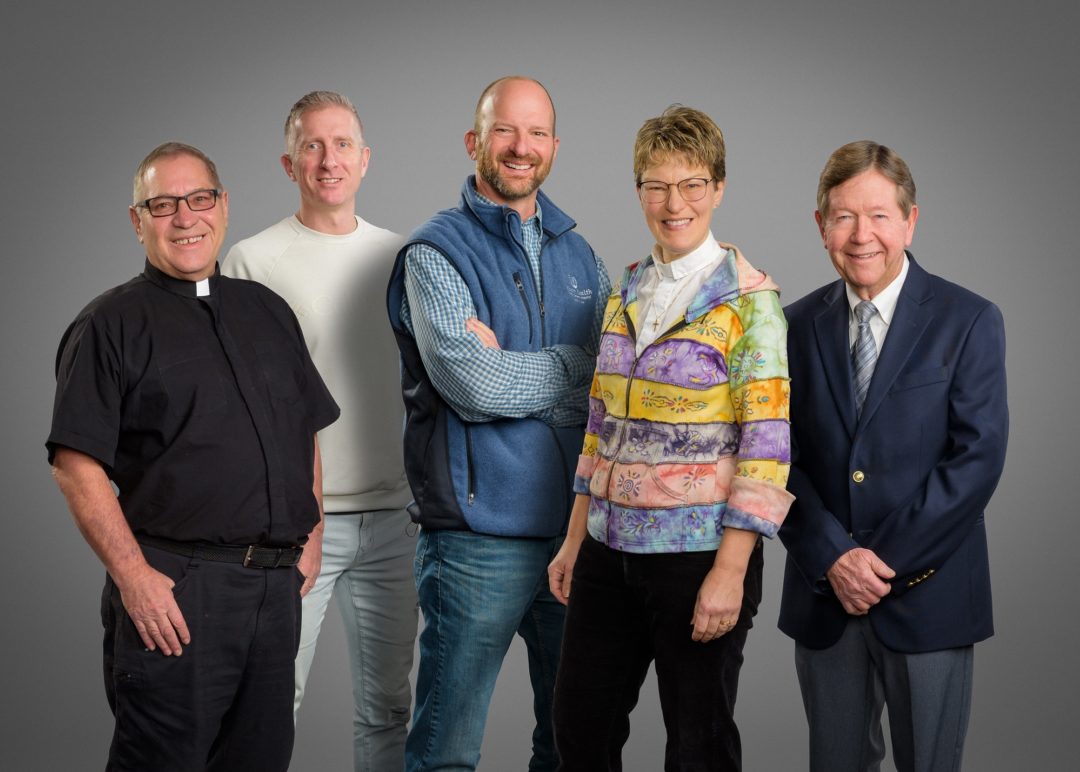 Caption: From left, David Hockaday, Adam Brennan, Doug Peterson, Brenda Satrum, and Terry Oliver are part of the Mason Health Chaplain Program.
When a patient is undergoing a difficult time in their life, time and again, they will often turn to the support of one of Mason Health's volunteer chaplains.

The chaplains, each of whom have different theological backgrounds, visit Mason General Hospital on a rotating schedule and are available on an on-call basis. They are available to offer comfort and a respite for patients from the stresses they may be experiencing.
Mason Health's team of seven chaplains include Adam Brennan of Gateway Christian Fellowship; Anglican priest David Hockaday; Lutheran Robin Pizanti, RN; Marc Buchheit of Healing Northwest Ministries; and Faith Lutheran Church Pastors Terry Oliver, Doug Peterson and Brenda Satrum.
"Our No. 1 job is to provide spiritual and emotional care," said Pastor Oliver. "I love hearing patients' stories and getting to know them. At one of my last visits, a patient was actively dying. Being able to be there and offer prayers and words of commendation is important."
Chaplains cannot proselytize, and their care must be patient-directed. Each of our chaplains has experience providing spiritual care in a medical environment.
Chaplains who come into the hospital and round with patients must meet the same vaccination requirements as Mason Health's employed staff. Some chaplains are scheduled for remote tele-chaplaincy services.
Chaplains round with the patients on their own and connect with nurses to ask which patients might need emotional support.
"Every one of the chaplains are amazing, caring and thoughtful," said Amy Nussbaum, RN, who works in the Medical-Surgical-Pediatrics unit and regularly connects patients with chaplains. "Patients appreciate when they come, and they remark on their kindness. Sometimes it's just nice to have another person to talk to, pray with or not."

If you are interested in learning more about Mason Health's Chaplain program, email ihilburger@masongeneral.com or visit the Volunteer Services page to learn more about volunteering programs.