Our Patients are Talking About Us! Comments from Patients of Mason General Hospital & Family of Clinics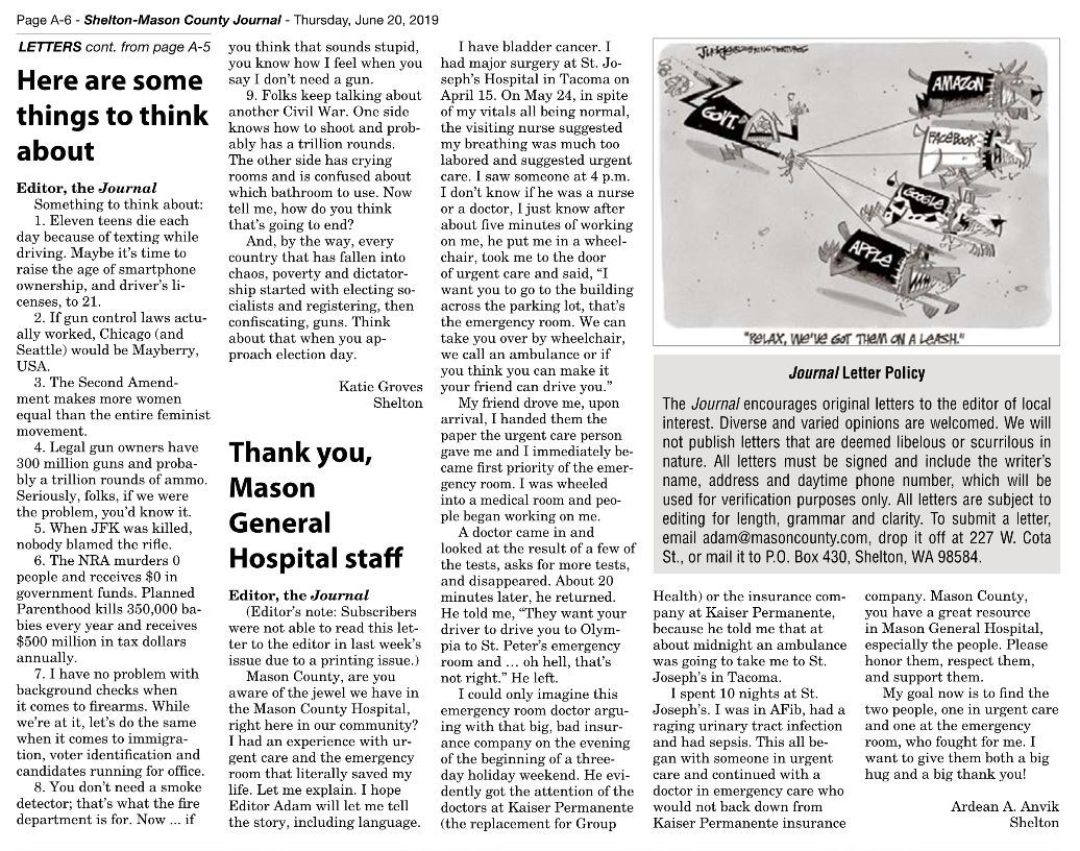 Recent Letter to the Editor - Shelton Mason County Journal Newspaper
Patient Kudos given to staff at Mason General Hospital, MGH Olympic Physicians and the Environmental Services Department

"I could not have asked for better care, they were all so special. I have been to a lot of hospitals and this is the best! Special thanks the Environmental Services Department for keeping my room so clean."
Online Patient Review from Social Media
My family and I love this place, and have seen just about every doctor for just about every reason. I have two daughters 4 years old and 17 months. They are very willing to work with you for charity care, payments. My husband has gone to them since he was a kid. It is super cool that they just got a new computer system that connects to mason general so you can see ALL of your medical records, from the clinic to the hospital, online!
Kudos to the Emergency Department Staff - Service From the Heart Commendation
"My daughter had attempted to end her life. When I got to ER, your team was working to save her life. I truly believe that your quick actions saved her. Thank you so much, there will never be enough thanks. I am so grateful to the team at Mason General! You and God saved my baby girl."
"Thank you for the assistance you provided to a mother in need when her car broke down on the main street outside of the hospital. She had her three small children in the car and was attempting to get them out and to the curb for safety. As it turned out, the children are patients at OBP (Oakland Bay Pediatrics). The use of your Spanish speaking skills assisted in calming the mother and helping direct her to a safe area. Your caring concern for a member of our community and her family has not gone unnoticed."
Kudos to the Rehabilitation Services Department - Service From The Heart Commendation
"Many thanks to the entire team for all of your help and support after my knee surgery. You are a special group. I happy to know you all are still looking out for me!"
"While the ER's business is to relieve immediate pain, the night crew was all about me and taking care of me. And with a smile and sense of humor. They were very professional and very calm in my throws of agony and am forever thankful for such great treatment. "
Kudos to the Diagnostic Imaging Department Staff & Mammography Team Member- Service From the Heart Commendation
"Thank you for being so kind and gentle with me. I have had a mammogram for over 40 years and only two have been so gentle. You are one of the two! I will come again in 6 months, willing and without concern. You should be a teacher as I don't understand why you get results without pushing beyond our limits. Again, thank you for making my day pain free (no bruises)."
"My experience with you in The Birth Center was awesome. You helped with prepping and were so sweet to me and my family. Thank you for being kind and courteous."
What Our Patients are Saying on Social Media