Fantasy Forest
Fantasy Forest 2017, A Benefit for Mason General Hospital and Family of Clinics, is Mason General Hospital Foundation's Annual Holiday celebration on the beautiful Hood Canal at Alderbrook Resort & Spa.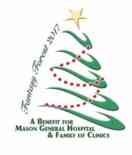 Welcome to the 21st Annual Mason General Hospital Foundation Fantasy Forest Event, sponsored by Little Creek Casino Resort. Mason General Hospital Foundation's Annual Holiday celebration is returning, once again, to the elegant and world-renowned Alderbrook Resort and Spa, nestled among the spectacular Olympic Mountains, with pristine evergreen trees and glistening waters on the picturesque Hood Canal.
Our annual fundraiser is a signature holiday event within the community which supports our heartfelt mission to enhance the quality of healthcare for all residents of Mason County. Funds raised help support the purchase of medical and healthcare related equipment for MGH&FC.
A Message from the Event Chair
As we enjoy the fruits of a summer so well deserved, another Fantasy Forest – A Benefit for Mason General Hospital & Family of Clinics is just around the corner. This signature holiday event benefiting our community will raise funds and directly support the health of Mason County by ensuring high quality care is available now and in the future. Mason General Hospital Foundation through Fantasy Forest will also be able to educate and create awareness of the nationally recognized resources and services available right here in our community.
Once again we will be partnering with Alderbrook Spa & Resort located on Hood Canal to create our 23rd Fantasy Forest in this stunning environment. This year we will have an even more intimate setting as the Ballroom is transformed into a magical holiday dreamland. The activities of Fantasy Forest are a wonderful way to kick off the season of giving while seeing friends, having fun and dressing up to celebrate the occasion. Each year we strive to create a memorable event that you will look forward to and this year is no different; wonderful food, lively entertainment and amazing auction items all await you at this year's festivities.
We hope you will join us in raising funds to support this wonderful community we live, work and play in by participating in the 2017 Fantasy Forest Events.
With much gratitude,
Tanya M Frazier

Father - Daughter Night Out
Friday, November 3 - Shelton Civic Center
As the kickoff event of Fantasy Forest 2017, Father Daughter Night Out promises to create a memorable experience for Fathers and Daughters of all ages. Dance the night away in our Winter Wonderland located at the Civic Center where MGH&FC's own Chef John Cruse, Jr., CCE, CEC, will be creating a menu sure to satisfy and delight. Join us in making memories to last a lifetime. Portrait packages offered by Cooper Studios.
Event elements to include: Silent Auction, Gift Shop, Fund-An-Item, and Special Raffle. Online ticket sales close on Monday, October 30, 2017. Please call (360) 427-3618 to inquire about ticket and event information. Reservations Required. After October 30, you will need to contact the Foundation office for ticket information.
Doors open at 5:30 p.m.

Dinner served at 6:30 p.m.
Event ends at 10 p.m.

Business Luncheon & Confections Auction
Friday, November 17 - Alderbrook Resort & Spa, Ballroom
The holiday rush is just beginning so treat yourself to an afternoon escape at Alderbrook Resort and Spa on beautiful Hood Canal, or better yet, bring the entire office for some holiday cheer. This year's Fantasy Forest display will certainly get you in the holiday spirit while dazzling you with tempting desserts to bid on and enjoying some lively fun with friends. Elements include: Plated Luncheon, Dessert Auction and Fund-An-Item.
MGHF President Whitney Jones will once again be Event Emcee and Auctioneer! Online ticket sales close November 6, 2017. Please call (360) 427-3618 for ticket and event information. Reservations Required.
Ticket price per person $50, Tables of Ten $500
Doors open at 11:00 a.m.

Lunch is served at 11:30 a.m.
Dessert Auction is 12 noon – 1:00 p.m.
Check Out begins at 1:00 p.m.
Event ends at 1:30 p.m.

Barrels & Brews – A Toast to Our Community Supporters
Friday, November 17 - Alderbrook Resort & Spa, Ballroom
MGHF is honored to invite you to our annual Barrels & Brews tasting event. Join us as we celebrate Fantasy Forest and our community supporters while enjoying Pacific Northwest wines, craft beers, music and gourmet hors d'oeuvres.
Enjoy this wonderful celebration while taking the opportunity to meander through the shimmering grounds of Alderbrook Resort & Spa, and gaze at the beautifully decorated designer trees created for this year's MGHF annual Fantasy Forest event.
Event elements include: Live Band, Beer and Wine Sales and Silent Auction.
Soft seating only and tickets purchased at the door are subject to a $15 surcharge.
Reservations Required.

Doors open at 5pm
Event 5:30pm to 10pm
Ticket Price Per Person $60
Ticket Price at the door: $75 per person
Guests must be 21 or older to attend*
$60 per person - Add to cart
$75 at the door (*with photo ID on request)
Online ticket sales ended November 6, 2017. Please call (360)427-3623 for event and at the door ticket sales information.

Gala and Live Auction
Saturday, November 18 - Alderbrook Resort & Spa, Ballroom
Consider making this year's Fantasy Forest Gala and live auction a must on your "To Do" list. What better way to kick off 2017's season of giving than attending an enchanting evening at the Alderbrook Resort& Spa on the Hood Canal. This wonderful event is an opportunity to dress up, show your support for MGH&FC and make a difference that touches the entire community.
No Host Bar. Black Tie Optional
Tickets must be purchased in advance and RSVP's are required for all guests.

Tickets are $175 per person, or Premier front row seating tickets are $200 per person. When purchasing your tickets online, please be sure to make a note to seller when checking out to indicate seating preferences.
Deadline for all ticket sales is Monday, November 6, 2017. After November 2nd single ticket purchases to the Gala & Live Auction must be purchased by calling Holly House, MGH&FC Event Coordinator, at (360) 427-3618.
Alderbrook Resort & Spa is offering special resort overnight stay rates. Use the code, "Fantasy Forest" when making your reservation.
Tickets are transferable with 72 hour notice, but non-refundable.
Event Itinerary
5:00 p.m. Doors Open
5:30 to 6:30 p.m. Cocktail Hour and Silent Auction
6:30 p.m. Gala & Live Auction Program begins
11:00 p.m. Event ends

Other ways you can help support the MGHF Fantasy Forest week-long event:
I am unable to attend, but would like to make a 100% tax deductible contribution!

I would like to attend by volunteering for the Fantasy Forest event!
I am unable to attend, but would like to donate a gift basket, service (i.e. oil change, window/roof/home cleaning, consulting, time share condo), or gift card to Fantasy Forest to be used for any Silent or Live Auction!
Please click on the link below to download the Gift in Kind form. Kindly return the completed Donation Receipt to the Foundation Office via fax (360) 427-4448 or via email at foundation@masongeneral.com. Or mail the completed form to PO BOX 1668, Shelton, WA 98584 ATTN: Fantasy Forest.
November 03, 2017
- November 18, 2017
Sponsors
Little Creek Casino Resort Title Sponsor
Heritage Bank
Gala & Live Auction Sponsor  
Ingraham Family, LLC dba Christmas Village
Gala & Live Auction Sponsor  

Sierra Pacific Industries
Flame Award
Travel Voucher Sponsor
John L. Scott Foundation
Celebration of Life Tree Sponsor
Forest Star Sponsors
Robert W. Johnson, PLLC
Wittenberg, C.P.A., P.S.
Event Information & Downloads