Fantasy Forest
Fantasy Forest 2017, A Benefit for Mason General Hospital and Family of Clinics, is Mason General Hospital Foundation's Annual Holiday celebration on the beautiful Hood Canal at Alderbrook Resort & Spa.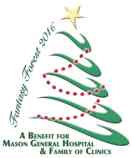 Mason General Hospital Foundation's annual fundraiser, Fantasy Forest is our community's signature holiday event with the purpose of supporting our mission to enhance the quality of healthcare for the residents of Mason County. Funds raised support the purchase of equipment for MGH&FC.
Other ways you can help support the MGHF Fantasy Forest week-long event:
I was unable to attend, but would like to make a 100% tax deductible contribution!

November 14, 2017
- November 18, 2017
Sponsors
Little Creek Casino Resort Title Co-Sponsor
Heritage Bank
Grand Gala & Live Auction Co-Sponsor        
Ingraham Family, LLC dba Christmas Village
Programs & Advertising Sponsor

Fir Lane Health & Rehabilitation Center
Designer Decorated Tree Sponsor              

Cellnetix Pathology & Laboratories
Travel Voucher and Event Poster Sponsor
South Sound Radiology
Business Luncheon Co-Sponsor
Alderbrook Resort & Spa
Business Luncheon Partner    


Sierra Pacific Industries
Live Auction Holland America Cruise Sponsor & 2016 Flame Award Co-Sponsor                 
Our Community Credit Union
Open House & Tree Viewing Sponsor        
Arnold Smith Insurance Company
Shelton Health & Rehabilitation
Celebration of Life Tree Co-Sponsor    
E.I. Kristyn & Son Construction, Inc.
Father Daughter Night Out Co-Sponsor
Taylor Shellfish
Volunteer Village Co-Sponsor 

Melanie Bakala, State Farm Agent
Peninsula Credit Union
Fantasy Forest Supporter-Father Daughter 
Forest Star Sponsors
Bob and Melanie Appel
Bowers Dental Group
Edward Jones, Karen Schade
Hood Canal Communications
McComb &Wagner Family Funeral Home and Crematory
Robert W. Johnson, PLLC
Wittenberg, C.P.A., P.S.
Fantasy Forest Event Information