Fantasy Forest November 2018
Fantasy Forest 2018, A Benefit for Mason General Hospital and Family of Clinics, is Mason General Hospital Foundation's Annual Holiday celebration on the beautiful Little Creek Casino Resort.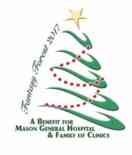 Welcome to the 24th Annual Mason General Hospital Foundation Fantasy Forest Event, sponsored by Little Creek Casino Resort. Mason General Hospital Foundation's Annual Holiday celebration is changing it up this year and returning to Little Creek Casino Resort nestled in the diverse landscape of the sun-dappled rain forests, deep canyons and mountain ridges of the Kamilche Valley.
Our annual fundraiser is a signature holiday event within the community which supports our heartfelt mission to enhance the quality of healthcare for all residents of Mason County. Funds raised help support the purchase of medical and healthcare related equipment for MGH&FC.
Mason General Hospital Foundation would like your support in raising funds to go toward the purchase of equipment for Mason General Hospital & Family of Clinics. Total funds needed for the new 3D Mammography System is $542,280. As the top funding priority for MGH&FC and MGHF, Fantasy Forest will proceeds will support a portion of the funding needed for 3D Mammography services for our local hospital and family of clinics.
Patient Benefits of the Selenia Dimensions 3D Mammography System for MGH&FC:
Ergonomic design for patient comfort
Up to 40% reduction in false positive recalls, minimizing patient anxiety
Proven 41% increase in invasive breast cancer detection
FDA approved and superior 2D Mammography
You Can Make A Difference and Every Gift Counts! We encourage you to give thanks this holiday season by making a financial contribution to Mason General Hospital Foundation.
Father - Daughter Night Out
Friday, November 9 - Shelton Civic Center
Business Luncheon & Confections Auction
Friday, November 16 - Little Creek Casino Resort
P.S. If you were unable to attend Fantasy Forest and you would like to make a contribution to MGHF please click on the button below. Thank you in advance for your support!

November 09, 2018
- November 17, 2018
Little Creek Casino Resort
Sponsors
Little Creek Casino Resort Title Sponsor
Heritage Bank
Gala & Live Auction Sponsor  

Ingraham Family, LLC dba Christmas Village
Gala & Live Auction Sponsor