Fantasy Forest
Fantasy Forest 2018, A Benefit for Mason General Hospital and Family of Clinics, is Mason General Hospital Foundation's Annual Holiday celebration.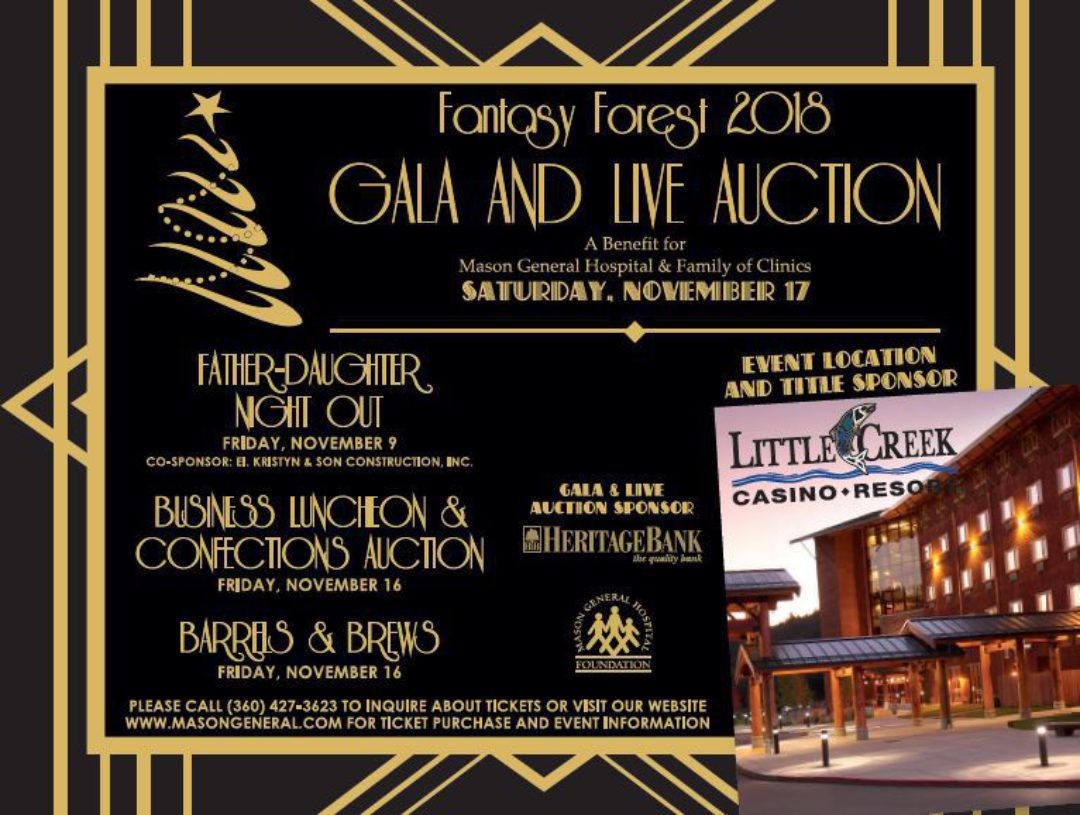 Welcome to the Annual Mason General Hospital Foundation Fantasy Forest Event, sponsored by Little Creek Casino Resort. Mason General Hospital Foundation's Annual Holiday celebration is changing it up this year and returning to Little Creek Casino Resort nestled in the diverse landscape of the sun-dappled rain forests, deep canyons and mountain ridges of the Kamilche Valley.
Our annual fundraiser is a signature holiday event within the community which supports our heartfelt mission to enhance the quality of healthcare for all residents of Mason County. Funds raised help support the purchase of medical and healthcare related equipment for MGH&FC.
Mason General Hospital Foundation would like your support in raising funds to go toward the purchase of equipment for Mason General Hospital & Family of Clinics. Total funds needed for the new 3D Mammography System are $542,280. As the top funding priority for MGH&FC and MGHF, Fantasy Forest proceeds will support a portion of the funding needed for 3D Mammography services for our local hospital and family of clinics.
Patient Benefits of the Selenia Dimensions 3D Mammography System:
Ergonomic design for patient comfort
Up to 40% reduction in false positive recalls, minimizing patient anxiety
Proven 41% increase in invasive breast cancer detection
FDA approved and superior 2D Mammography
You Can Make A Difference and Every Gift Counts! We encourage you to give thanks this holiday season by making a financial contribution to Mason General Hospital Foundation.

Father - Daughter Night Out
Friday, November 9 - Shelton Civic Center
525 W. Cota Street
Shelton, WA 98584
As the kickoff event of Fantasy Forest 2018, Father Daughter Night Out promises to create a memorable experience for Fathers and Daughters of all ages. We will transform the Civic Center into a space filled with wonders and surprises inspired by The Great Gatsby. We are also partnering with Head Start by giving VIP Experiences to two families now part of the Head Start Program. Join us in making memories to last a lifetime. Portrait packages offered by Cooper Studios.

Event elements to include Silent Auction and Gift Shop Fund-An-Item. Online ticket sales close on Monday, November 5,2018.
Please call (360) 427-3623 to inquire about ticket and event information. Reservations required. After November 5th, you will need to contact the Foundation office for ticket availability.
Event starts at 5:30 pm

Dinner served at 6:30 pm
Event ends at 9:00 pm

Business Luncheon & Confections Auction
Friday, November 16 - Little Creek Casino Resort
The holiday rush is just beginning so treat yourself to an afternoon escape at Little Creek Casino Resort, or better yet, bring the entire office for some holiday cheer. This year's Fantasy Forest display will certainly get you in the holiday spirit while dazzling you with tempting desserts to bid on while you enjoy some lively fun with friends.
MGHF President Whitney Jones will once again be Event Emcee and Auctioneer! Online ticket sales close November 12, 2018. Please call (360)427-3623 for ticket and event information. Reservations Required.

Ticket price per person $50, Tables of Ten $500
Event opens at 11:00 am

Lunch is served at 11:30 am
Dessert Auction is 12 pm – 1:00 pm
Check Out begins at 1:00 pm
Event ends at 1:30 pm

Barrels & Brews – A Toast to Our Community Supporters
Friday, November 16 - Little Creek Casino Resort
MGHF is honored to invite you to our annual Barrels & Brews tasting event. Join us as we celebrate Fantasy Forest and our community supporters while enjoying Pacific Northwest wines, craft beers, live music and gourmet hors d'oeuvres.
Enjoy this wonderful celebration while taking the opportunity to meander through the shimmering grounds of Little Creek Casino Resort. Gaze at the beautifully decorated designer trees created for this year's MGHF annual Fantasy Forest event re-imagined as Gatsby's world in the roaring twenties.
Event elements include Live Band, Beer and Wine Sales and Silent Auction.
Soft seating only
Reservations Required.

Doors open at 5:00 pm
Event 5:30pm to 10:00 pm
Ticket Price Per Person $60
Ticket Price at the door Per Person $75
Guests must be 21 or older to attend*
Please call the Foundation at (360) 427-3623 for at the door ticketing information.
$60 per person - Add to cart
$75 at the door
(*with photo ID on request)
Online ticket sales end November 12, 2018.
Please call (360)427-3623 for event and at the door ticket sales information.

Gala and Live Auction
Saturday, November 17 - Little Creek Casino Resort
Consider making the Great Gatsby themed Fantasy Forest Gala and Live Auction a must on your "To Do" list. What better way to kick off 2018's season of giving than attending an enchanting evening at the Little Creek Casino Resort? This storybook experience is an opportunity to dress up, show your support for MGH&FC and make a difference that touches the entire community.
Event Elements include No Host Bar & Great Gatsby Theme. So dress up!

Other ways you can help support the MGHF Fantasy Forest week-long event:
If you were unable to attend Fantasy Forest and you would like to make a contribution to MGHF please click on the button below. Thank you in advance for your support!

I would like to support by volunteering for the Fantasy Forest event!
Volunteer - Click here to download the volunteer form.
I am unable to attend, but would like to donate a gift basket, service (i.e. oil change, window/roof/home cleaning, consulting, time share condo), or gift card to Fantasy Forest to be used for any Silent or Live Auction!
Please click on the link below to download the Gift in Kind form. Kindly return the completed Donation Receipt to the Foundation Office via fax (360) 427-4448 or via email at foundation@masongeneral.com. Or mail the completed form to MGHF PO BOX 1668, Shelton, WA 98584 ATTN: Fantasy Forest.
November 09, 2018
- November 17, 2018
Shelton Civic Center & Little Creek Casino Resort
Sponsors
Little Creek Casino Resort Title Sponsor
Heritage Bank
Gala & Live Auction Sponsor  

Bronze Level - Volunteer Services Sponsor
Shelton Health & Rehabilitation