Fantasy Forest
Fantasy Forest 2017, A Benefit for Mason General Hospital and Family of Clinics, is Mason General Hospital Foundation's Annual Holiday celebration on the beautiful Hood Canal at Alderbrook Resort & Spa.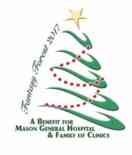 Welcome to the 23rd Annual Mason General Hospital Foundation Fantasy Forest Event, sponsored by Little Creek Casino Resort. Mason General Hospital Foundation's Annual Holiday celebration is returning, once again, to the elegant and world-renowned Alderbrook Resort and Spa, nestled among the spectacular Olympic Mountains, with pristine evergreen trees and glistening waters on the picturesque Hood Canal.
Our annual fundraiser is a signature holiday event within the community which supports our heartfelt mission to enhance the quality of healthcare for all residents of Mason County. Funds raised help support the purchase of medical and healthcare related equipment for MGH&FC.
Mason General Hospital Foundation would like your support in raising funds to go toward the purchase of equipment for Mason General Hospital & Family of Clinics. Total funds needed for the new 3D Mammography System is $542,280. As the top funding priority for MGH&FC and MGHF, Fantasy Forest will proceeds will support a portion of the funding needed for 3D Mammography services for our local hospital and family of clinics.
Patient Benefits of the Selenia Dimensions 3D Mammography System for MGH&FC:
Ergonomic design for patient comfort
Up to 40% reduction in false positive recalls, minimizing patient anxiety
Proven 41% increase in invasive breast cancer detection
FDA approved and superior 2D Mammography
You Can Make A Difference and Every Gift Counts! We encourage you to give thanks this holiday season by making a financial contribution to Mason General Hospital Foundation.
A Message from the Event Chair
As we enjoy the fruits of a summer so well deserved, another Fantasy Forest – A Benefit for Mason General Hospital & Family of Clinics is just around the corner. This signature holiday event benefiting our community will raise funds and directly support the health of Mason County by ensuring high quality care is available now and in the future. Mason General Hospital Foundation through Fantasy Forest will also be able to educate and create awareness of the nationally recognized resources and services available right here in our community.
Once again we will be partnering with Alderbrook Spa & Resort located on Hood Canal to create our 23rd Fantasy Forest in this stunning environment. This year we will have an even more intimate setting as the Ballroom is transformed into a magical holiday dreamland. The activities of Fantasy Forest are a wonderful way to kick off the season of giving while seeing friends, having fun and dressing up to celebrate the occasion. Each year we strive to create a memorable event that you will look forward to and this year is no different; wonderful food, lively entertainment and amazing auction items all await you at this year's festivities.
We hope you will join us in raising funds to support this wonderful community we live, work and play in by participating in the 2017 Fantasy Forest Events.
With much gratitude,
Tanya M Frazier
P.S. If you were unable to attend Fantasy Forest and you would like to make a contribution to MGHF please click on the button below. Thank you in advance for your support!

November 03, 2017
- November 18, 2017
Sponsors
Little Creek Casino Resort Title Sponsor
Heritage Bank
Gala & Live Auction Sponsor  
Ingraham Family, LLC dba Christmas Village
Gala & Live Auction Sponsor  

Dynamic Collectors, Inc.
Barrels & Brews Beer & Wine Sponsor
Fir Lane Health & Rehabilitation Center
Designer Decorated Tree Sponsor              

Cellnetix Pathology & Laboratories
Travel Voucher and Event Poster Sponsor
Sierra Pacific Industries
Flame Award
Travel Voucher Sponsor
South Sound Radiology
Business Luncheon Co-Sponsor
Our Community Credit Union
Business Lunch Co-Sponsor      
E.I. Kristyn & Son Construction, Inc.
Father Daughter Night Out Co-Sponsor
Taylor Shellfish
Live Auction Cruise Sponsor

John L. Scott Foundation
Celebration of Life Tree Sponsor
Peninsula Credit Union
Father Daughter Night Out Site Decorations Sponsor
Forest Star Sponsors
Bowers Dental Group
Cameo Boutique & Wine Shop
Bob & Melanie Appel
McComb & Wagner Family Funeral Home & Crematory
Providence Health & Services
Robert W. Johnson, PLLC 
Wittenberg, C.P.A., P.S.
Event Information & Downloads