REGISTRATION NOW OPEN FOR MGHF QUALITY CARE OPEN GOLF TOURNAMENT – THIS SUMMER AT IMPRESSIVE EAGLE'S PRIDE GOLF COURSE IN DUPONT, WA
Release Date: Mar 09, 2023
After a successful return last year of Mason General Hospital Foundation's signature golf tournament fundraiser, following a two-year hiatus due to the COVID-19 pandemic, the Foundation is excited to announce that registration is now open for this year's Quality Care Open. The event takes place Monday, July 10, at Eagle's Pride Golf Course in Dupont, WA, and promises to be a premier event that will expand upon last year's success. Register today as a team, an individual player or for a corporate sponsorship.
"This is one of the best tournaments all year and a chance to support an amazing Foundation that does so much good for Mason County and beyond," said event co-chair Karen Schade of Edward Jones in Shelton. "We are changing things up and trying a new location with Eagle's Pride in Dupont. It's a chance to play a new course and see more of what the Pacific Northwest has to offer in summer."
The MGHF Golf Committee is now including Eagle's Pride in Dupont into the tournament's rotation schedule based on feedback from many of the corporate sponsors and players that attend the event each year. The committee is excited to expand the golf tournament's reach in order to bring more dollars back to Mason Health, in support of the Mason County community.
"In 2022, we saw a huge upswing in sponsorships and support from partners of Mason Health and Mason General Hospital Foundation outside of Mason County," said event co-chair Brent Wilcox, director at OAC Services, Inc., and a long-time MGHF golf tournament player. "This played a big part in our decision to find a middle ground that is convenient for all. Eagle's Pride is right off I-5 near Nisqually and offers a great venue for the reception and awards ceremony. This is our first-time hosting outside of Mason County, and we need everyone's support to make this a huge success."
Eagle's Pride features an impressive design and a perfectly groomed 27-hole championship course with exceptional greens, manicured fairways and a forgiving rough with tee boxes designed for all levels of golfers. The golf course uses the original 18-hole configuration in the winter, and switches to the 27-hole (summer course) layout in late March.
The MGHF Quality Care Open players will golf 18 holes in a scramble format, in four-person teams. Included with the price of the ticket are a variety of prizes, team photos provided by Hood Canal Communications, golfer gift packs, a light breakfast and lunch available, and an awards dinner.
Take advantage of early bird pricing by registering to play before May 15. Tickets cost $189 per person, or $756 for four-person team. After May 1, tickets will cost $199 per person, or $796 for a four-person team. Sponsorship opportunities are also available. Registration is available online at www.masongeneral.com/community/events/quality-care-open-golf-tournament. Tickets and sponsorship opportunities may be purchased over the phone by contacting the Mason General Hospital Foundation Office at 360-427-3623. Players may also pay in person at the Foundation's office at 2505 Olympic Highway North, Suite 170, in Shelton, near the McDonald's in Gateway Plaza.
The MGHF Golf Committee members also include Darren Eisele of Hood Canal Communications and Amber Trail of Our Community Credit Union.
Mason General Hospital Foundation furthers the mission of Public Hospital District No.1 by enhancing the quality of health care enjoyed by patients of Mason County. MGHF provides financial support to Mason Health.
##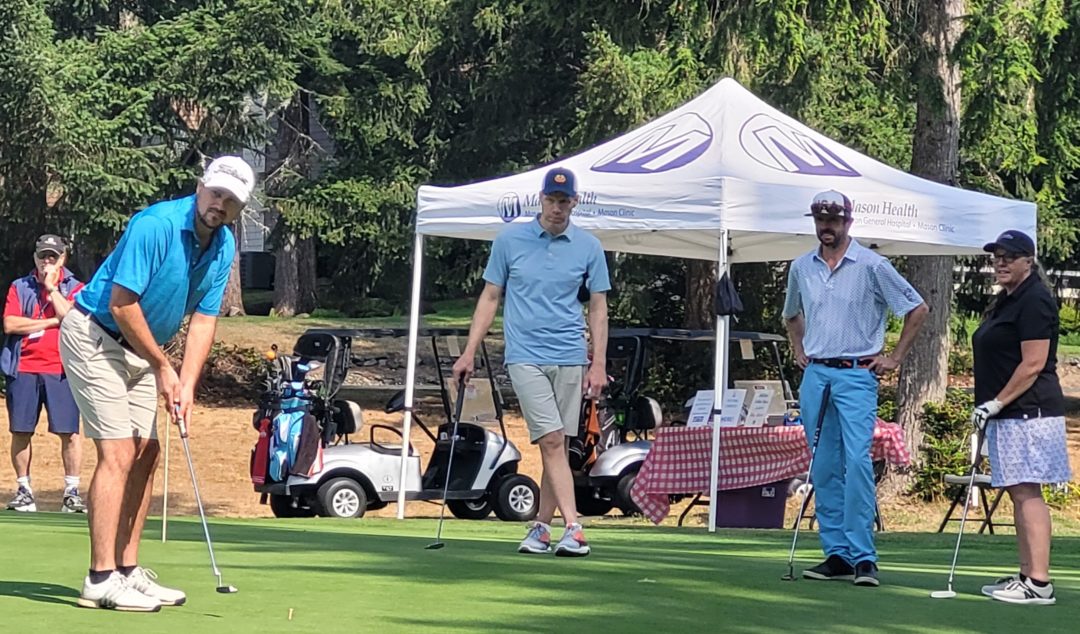 Mason Health provider Matt Woods, DPM, at the putting contest at last year's Mason General Hospital Foundation golf tournament.