MASON HEALTH ANNOUNCES INAUGURAL SHELTON HIGH SCHOOL HEALTH SCIENCES ACADEMY SCHOLARSHIP WINNERS DURING MASON HEALTH WEEK
Release Date: May 11, 2022
SHELTON, WA – Mason Health is investing in health care for future generations. In a landmark partnership with the Shelton High School Health Sciences Academy, Mason Health will fund the continuing education for three graduating high school seniors this fall.
"Mason Health's collaboration with the Shelton School District's Health Sciences Academy showcases the intrinsic value and strength of relationships," said CEO Eric Moll. "The Future Healthcare Workers of Washington scholarship program presents with strong alignment with our Mission of United Community, Empowered People, Exceptional Health. I am very proud of the work we are accomplishing. I am looking forward to celebrating our inaugural group of scholarship recipients. Through this important partnership with the Health Sciences Academy and the Shelton School District, we are able to modernize educational opportunities for the youth in our community, thereby creating a solid path for the future generations students and members of the health care workforce."
These future health care workers of Mason County will also be offered a job at Mason Health upon completion of their programs if a position is open.
Eryka Delgado-Hernandez, 17, and Carly VanAagten, 18, will receive full-ride scholarships from Mason Health to the competitive registered nursing (RN) program at South Puget Sound Community College this fall. At the same time, Delgado-Hernandez and VanAagten will work as nurse technicians at Mason General Hospital, gaining experience in multiple departments corresponding with the subject matter they are learning at school. Upon completion of nursing school, if Mason Health has open job positions, they will work at Mason General Hospital for a minimum of two years.
If there are no open positions at Mason Health when the students graduate from their programs, they do not need to pay the scholarship back.
Gregoria Alonzo Tomas, 17, will receive a full-ride scholarship from Mason Health to enter the Washington Association for Community Health's 12-month medical assistant apprenticeship program. During her program, she will work at Mason Clinic as a full-time employee and afterward, Tomas will be able to take the National Healthcareer Association exam to work as a Medical Assistant-Certified (MA-C). After becoming certified, she will work at Mason Clinic for a minimum of two years.
The US Bureau of Labor Statistics projects 194,500 average annual openings for registered nurses between 2020 and 2030, with employment projected to grow 9 percent, according to the American Nurses Association in 2022. Yet, with fewer nursing school programs available than students who are interested in pursuing the career, hospitals around the country are facing a shortage.
"Nationwide, we have a shortage of nurses, and we've known this was coming for the past 15 years," said Melissa Strong, Chief Nursing Officer for Mason Health. "This program is an investment into our community, and I believe this will become the model used elsewhere. Our program is purposeful, with students starting out on the Medical/Surgical floor as an entry into nursing."
Mason Health has been working with the Shelton School District since 2015, when former Shelton School District Superintendent Alex Apostle first envisioned transitioning Shelton High School toward an academy model. Current Superintendent Wyeth Jessee has continued that work. Students now choose pathways for their education within a set number of academies.
"This has become a way for us to help students gain purpose and focus," said Deena Alley, Shelton School District's Director of Academies. "It's not to say, 'This is what you need to do for the rest of your life,' it's to give students a chance to explore a field in-depth and learn skills they might use in another field in a totally different way."
The Health Sciences Academy launched in 2017, and Mason Health personnel have been involved at every step, from participating in planning meetings to serving as class guest speakers, Alley said.
"All of Shelton High School's academies would not exist without Mason Health," Alley said. "Mason Health has been instrumental in helping us grow our vision. They see a vision as well and they are continuously renewing and finding ways to expand our partnership."
Health care is a growing field, with multiple pathways and options for interested individuals. Over the next decade, there are an estimated 104,000 Medical Assistant-Certi­fied positions expected to open, with growth projected at 29 percent until 2028.
"Mason Health's program is incredible," said Kelly North, Mason Clinic Primary Care Manager. "It enables us to recruit within our community. It gives students a chance at some hands-on experience."
Learn more about Mason Health's investment into future generations in the June issue of SCOPE magazine. To learn more about Shelton High School's Health Sciences Academy programs, visit https://shs.sheltonschools.org/departments_classrooms/shelton_academies.
Mason Health, Public Hospital District No. 1 of Mason County, is certified by Det Norske Veritas (DNV) and is a licensed and accredited acute care hospital with a level four emergency trauma designation. Mason General Hospital and Mason Clinic are ENERGY STAR® certified and Mason Health is the recipient of the Practice Greenhealth Partner for Change Environmental Excellence Award. There are more than 100 physicians on staff in 19 specialties. For more information or to find a health care provider, visit www.masongeneral.com.
##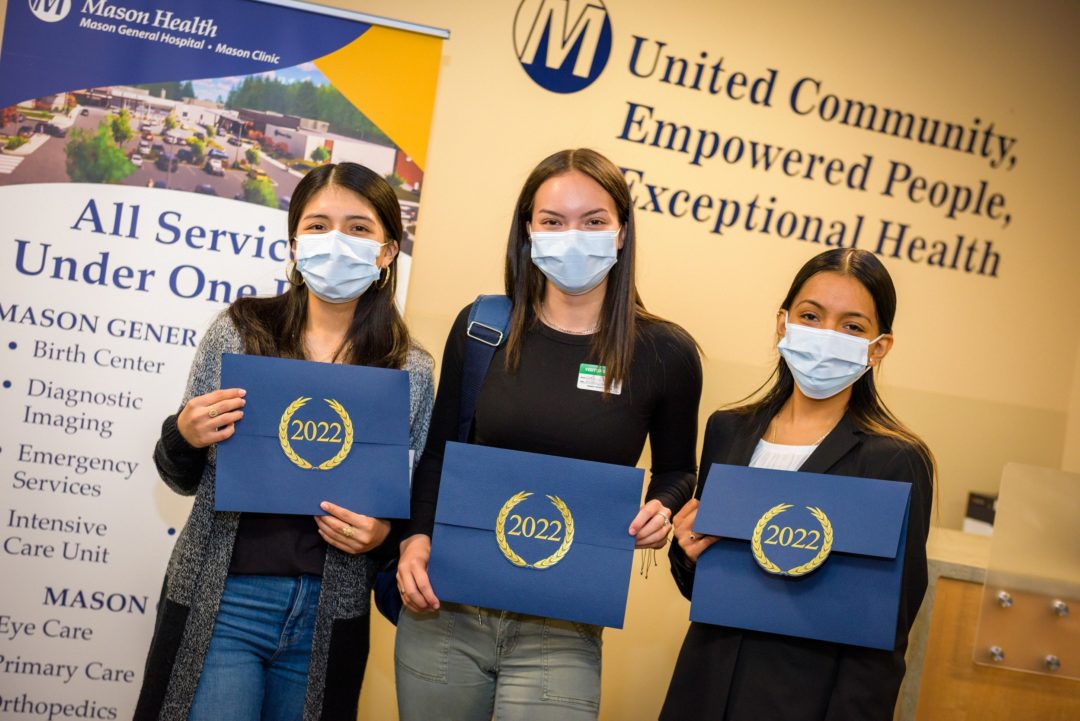 From left, Gregoria Alonzo Tomas, Carly VanAagten & Eryka Delgado-Hernandez