MASON GENERAL HOSPITAL FOUNDATION ANNOUNCES THE JACK STARK INVITATIONAL – A RETURN OF THE QUALITY CARE OPEN GOLF TOURNAMENT
Release Date: Jul 13, 2022
LakeLand Village Golf & Country Club in Allyn to host tournament
ALLYN, WA – Mason General Hospital Foundation's 26th annual Quality Care Open Golf Tournament — known this year as the Jack Stark Invitational — will be held at LakeLand Village Golf & Country Club in Allyn, Wash., this year. This is the first year that the tournament has been held since 2019, and the first time the event has taken place in Allyn since 2014. The Jack Stark Invitational is by invitation only and will take place on Friday, Aug. 12, 2022. As of July 13, 2022, this year's Platinum Sponsors are JTS Health Partners and Our Community Credit Union!


This year's tournament will raise funds for the Birth Center at Mason General Hospital for the purchase of a new IntelliVue MX400 transportable cardiac monitor that can be used to monitor a baby's heart rate and oxygen saturation, respiratory rate and blood pressure. MGHF is also raising funds for the IntelliVue MX100, a portable, stand-alone monitor for on-the-go patient monitoring, and LD304 birthing beds by Stryker. Mason General Hospital Foundation reserves the right to cancel the Golf Tournament due to COVID-19 restrictions or concerns. Golfers will be notified by Aug. 1 and may have the option of a refund or donating their registration fees to the Foundation's fundraising efforts.
While the tournament is by invitation only, community teams are available on a limited basis. If you are interested in supporting Mason General Hospital Foundation as a player and donating to our Fund-An-Item campaign, please contact the Mason General Hospital Foundation office.
"It is with the permission and blessing of the Stark family that the tournament was renamed the Jack Stark Invitational in honor of longtime Golf Tournament Committee Chair Jack Stark, who shepherded the tournament for 25 years, with nearly 30 years of service to MGHF," said Jennifer Capps, Chief Development & Communications Officer for Mason Health and Mason General Hospital Foundation. "I am also grateful for the efforts of the MGHF board members, steering committee and our multitude of sponsors who have stepped up to make this event possible."
Stark remains on the golf committee, along with Chair Karen Schade, Gary Diemert, Darren Eisele, Jeff McHargue, Colby Snyder, Billy Thomas and Brent Wilcox.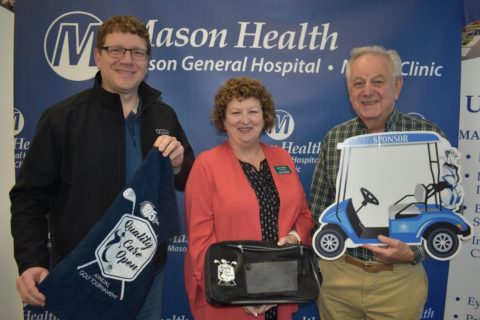 Four-person teams will play 18 holes in a scramble format on Generation II and Generation III at LakeLand Village's 27-hole course. Included with the price of the ticket are a variety of prizes, team photos provided by Hood Canal Communications, golfer gift packs, a light breakfast and lunch available, and an awards dinner prepared by LakeLand Village Golf Club.
"We are very excited to return to LakeLand Village Golf Course this year," Schade said. "Supporting this event means supporting quality health care in Mason County."
The Golf Committee is committed to supporting Mason County golf courses, while keeping costs down so every dollar can benefit local quality health care. Tickets cost $164 per person and all proceeds from the Golf Tournament go toward purchasing medical equipment for Mason Health, which includes Mason General Hospital, Mason Clinic and Mason Clinic-Hoodsport Primary Care.
The Foundation last held the Quality Care Open Golf Tournament at LakeLand Village in 2014. Head Golf Professional Tyson Odden joined the LakeLand Village Golf Club in 2022.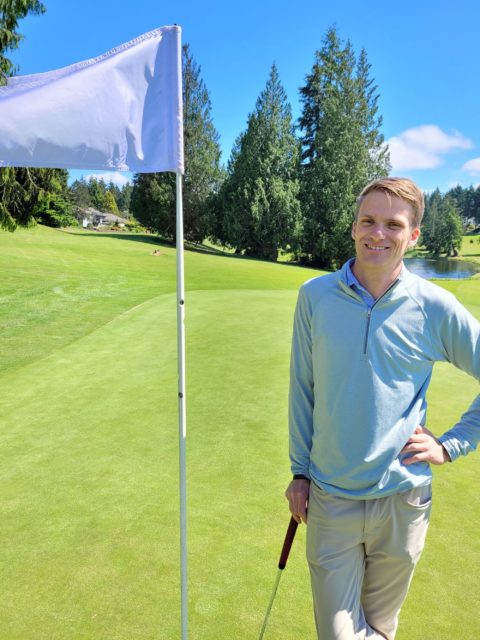 "Lakeland Village Golf Course is excited to be hosting Mason General Hospital Foundation's Quality Care Open Jack Stark Invitational," Odden said. "We look forward to showcasing our beautiful course located in Mason County, with some of the best greens in the state, views of the Olympic Mountain Range and Mount Rainier. We are happy to be able to provide the folks playing in the event with an incredible atmosphere and treating them to an enjoyable round of golf."
If you are interested in being a sponsor at the event, hole sponsorships are still available for local businesses. Learn more about the Quality Care Open Jack Stark Invitational at www.masongeneral.com/community/events/quality-care-open-golf-tournament.
Mason General Hospital Foundation furthers the mission of Public Hospital District No.1 by enhancing the quality of health care enjoyed by patients of Mason County. MGHF provides financial support to Mason Health. Mason Health, Public Hospital District No. 1 of Mason County, is ISO 9001 Quality Management System certified by Det Norske Veritas (DNV) and is a licensed and accredited acute care hospital with a level four emergency trauma designation. Mason General Hospital and Mason Clinic are ENERGY STAR® certified and Mason Health is the recipient of Practice Greenhealth Partner for Change Environmental Excellence Awards. There are more than 100 physicians on staff in 19 specialties. For more information or to find a health care provider, visit www.masongeneral.com.