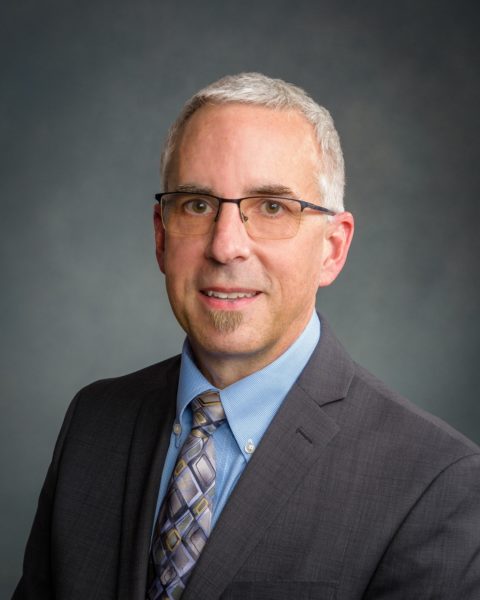 Mason Health's Chief Financial Officer Steve Leslie comes to Shelton with an extensive background working in health care finances in Alaska and California.
Background
Leslie is originally from Westchester, Pennsylvania, where he spent his childhood camping. When he graduated high school, his mother and stepfather moved to Fairbanks, Alaska. Leslie decided he would go to university on his own time and ultimately did not pursue his bachelor's degree until five years later. Instead, he spent that time working in restaurants near Denali National Park, first as a busboy, then a prep cook and a line cook.
"I liked the teamwork in the restaurant industry," he said. "And that if you work in restaurants, you can work anywhere in the world."
The stress of the restaurant industry, and the fact that you must work nights and weekends, eventually shifted Leslie's thinking. He felt ready to go back to school, and initially pursued a teaching degree. When his son was born in 1990, however, he decided he wanted to have a job that could work in any industry, so he switched gears and pursued accounting. He graduated with a 4.0 from the University of Alaska Fairbanks in 1994, with a degree in Business Administration in Accounting.
Leslie worked as a public accountant for five years, performing audits and tax services for nonprofits and tribal governments. This introduced him to the tribal health care system, and he discovered he had an affinity for working in health care and for underserved people. He became the finance officer for Interior Community Health Center, where he found his calling working in health care finances.
"Health care, like accounting, felt like a safe bet for job security," he said. "I really fell in love with the community health system and discovered that I love working with doctors, nurses and care providers."
After seven years, Leslie pivoted and worked for two years as a controller of an auto dealership, then he became the Chief Financial Officer for the Tanana Valley Clinic. At the time, in March 2009, the clinic was operated by Banner Health. In February 2016, Leslie became the CFO over three entities — Tanana Valley Clinic, Fairbanks Memorial Hospital, and the Denali Center, a short- and long-term care facility. He maintained that role when Foundation Health Partners, an independent regional health system, took the organization over in January 2017. In March 2019, he was promoted to Chief Operating Officer of Physician Services, where he became responsible for strategic and operational planning, physician compensation, recruiting, contracting and financial performance.
In January 2021, Leslie and his wife, Maria Helms, decided they wanted to move from Alaska.
"There's only so much snow you can shovel," he said. "It's a long time to live in the Arctic and we didn't want to retire there."
They "overcompensated" and moved to southern California, where Leslie worked as a CFO for a large community health care system, he said. While he loves the mission of community health care, the weather in Bakersfield was too hot and the organization was undergoing a lot of transition. After 18 months, Leslie was the longest-serving member of the administrative team.
The job at Mason Health feels like a perfect fit, Leslie said. Seattle is a direct flight to Fairbanks, where two of his children still live, and where Leslie and Helms still have a cabin.
His eldest child, Aaron, is an engineering tech for the Alaska Department of Transportation. His other son, Benjamin, is studying at the University of Alaska Fairbanks and wants to pursue law school. His eldest daughter, Emilia, graduated from Gustavus Adolphus College in Saint Peter, Minnesota, and works for Epic Systems. His youngest, Zarah, is taking college courses in Fairbanks.
Leslie and Helms have already purchased a home in Shelton, where they live with their three dogs, a pug named Frank, Echo, a husky rottweiler mix, and Jed, a retriever Akita mix.