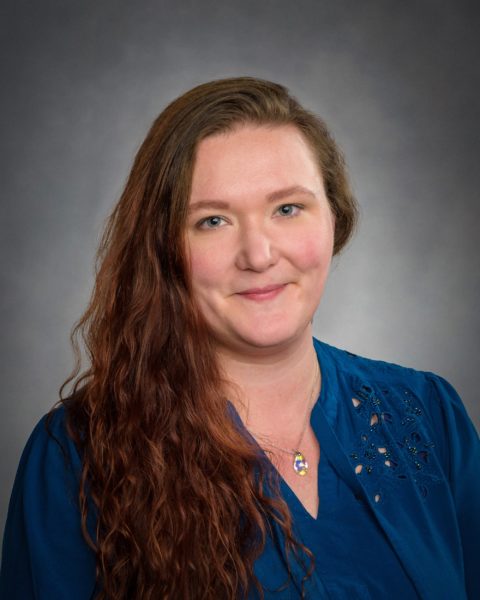 Lindsay Roberts joined the District in 2019 and has a passion for sharing medical lab science with future generations.
Roberts grew up as one of five children in Placerville, California, in a family of mostly musicians and artists, though, she later learned all four of her grandparents had been scientists.
While fascinated at a young age in science (she was captivated by medical mystery shows), she was not aware of a clear way to work in a medical laboratory. She took Advanced Placement Biology and Chemistry in high school and graduated early to attend community college.
"My community college did not have a lot to offer," she recalled. "However, my microbiology class piqued my interest. We learned about parasites and how they can infect drinking water in Africa. My professor talked about treatment for children who had become sick from the water."
Roberts wondered why no one had thought to treat the water, so that it could be clean enough to drink, rather than treat the children who had become sick. She shared her thoughts with her uncle, a NASA engineer, and a year later, he traveled to Uganda to build solar-powered wells that killed the parasites in the drinking water.
"That really inspired me to keep going down this science track," Roberts said.
Roberts pursued two associates degrees (General Science and Integrated Math & Science) while working as a veterinary technician. She wanted experience working in medical science and the job allowed her to dabble in lab work. However, she struggled with how to advance her career.
"This is where I started to flounder," she said. "I worked as a vet tech for five years. The information was just not out there for me to figure out how to get into a laboratory at my local hospital without having to drive an hour-and-a-half for extra schooling."
Roberts finally came across a new medical lab technician (MLT) program, which offered an associate's degree and certification to work as a medical lab technician upon graduation. She considered obtaining a bachelor's degree, but given the rigor of the work, she would have had to give up her job and go to school full-time.
"Getting into my MLT program was confusing and chaotic," she said. "It felt like a risk because it was new. Southern California had some programs, but I couldn't drive that far. This was not talked about in high school. I have since learned that my experience was pretty typical."

After graduating from Folsom Lake College in 2015, Roberts found work at Marshall Medical Center in her hometown. She worked there for five years as an MLT, and about three years into it, she decided to pursue her bachelor's degree.
By that time, she had found an online program offering a bachelor's degree in medical laboratory science from the University of Cincinnati. The program allowed her to do her clinical rotations at the hospital where she worked.
In 2019, Roberts and her husband visited Shelton. They wanted to move out of California because of the regular threat of fires, and they love the rain. Roberts wanted to find a small, rural hospital that could feel like family.
"I had read about Mason Health," she said. "I wanted to be in a place with real weather, I wanted to see clouds in the sky. The place where I worked in California was a family. I felt like the people working together in a small hospital would be much closer. I was right."
Watch more of Lindsay Roberts' story on our YouTube Channel:
Environmental Stewardship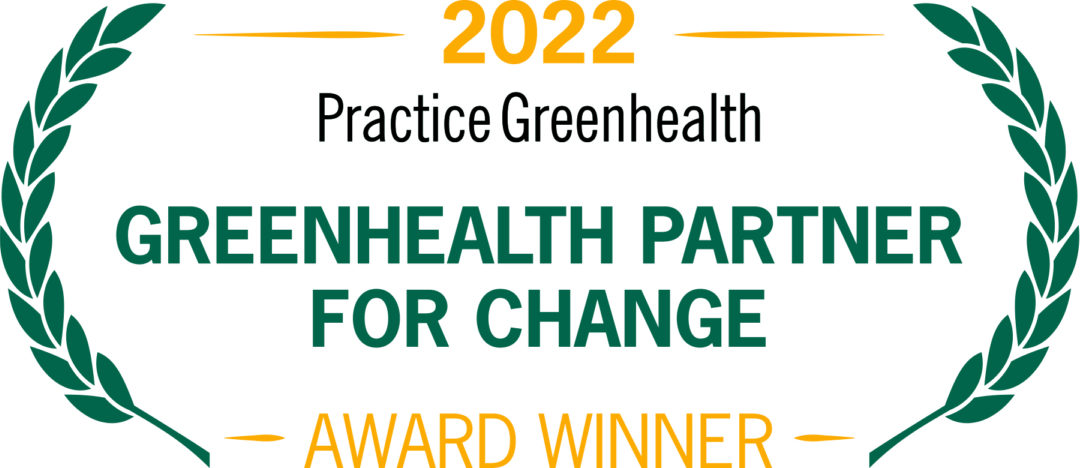 In 2021, Mason Health earned its first Environmental Excellence Award Partner for Change from Practice Greenhealth, the nation's leading organization dedicated to environmental sustainability in health care. The District won the award again in 2022.

Read more about the Practice Greenhealth award in the October 2021 issue of SCOPE magazine and in this press release.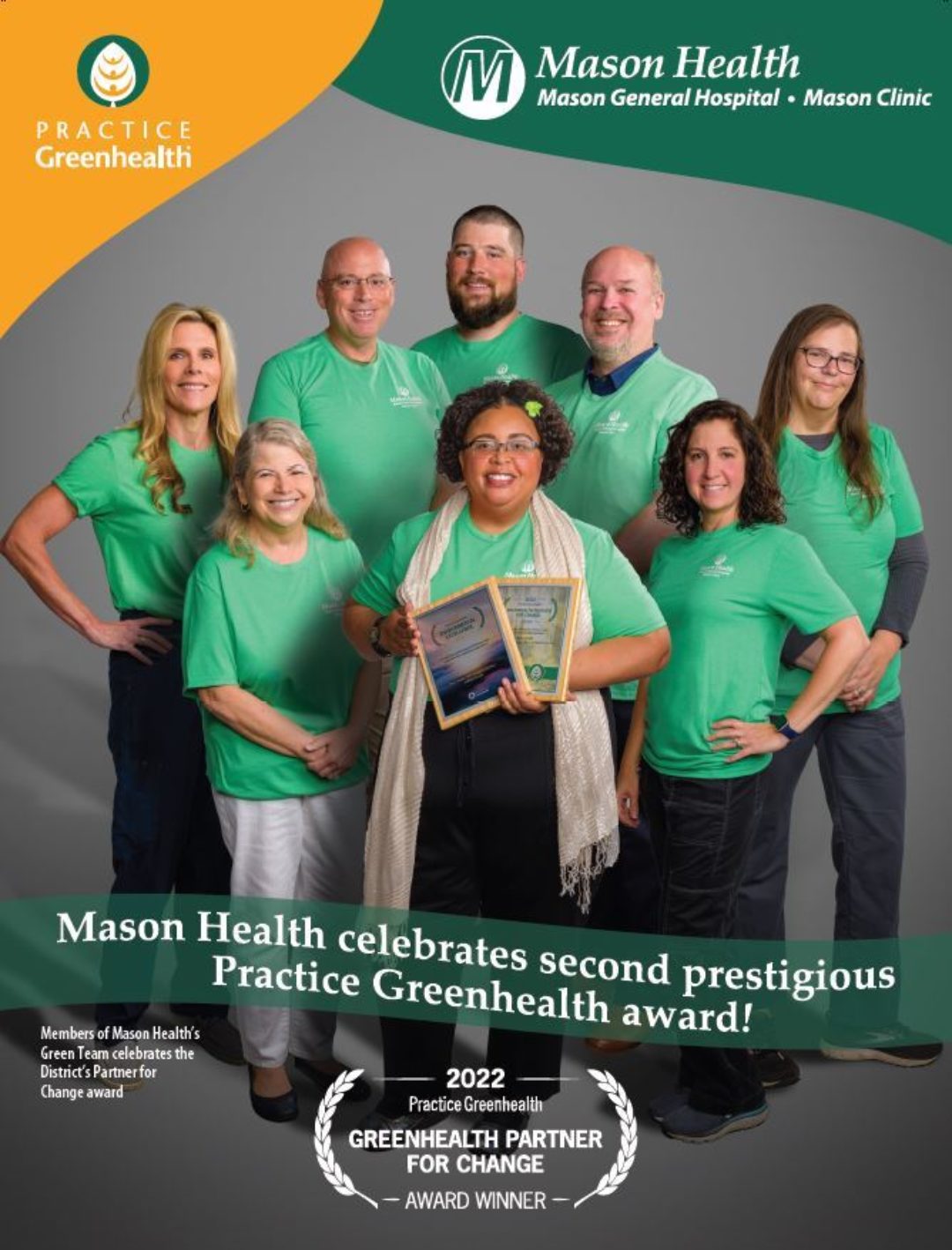 Composite Photo by Cooper Studios | Mason Health's Green Team, clockwise from left: Lori Genson, Intraoperative Services Manager; Patrick O'Neil, Director of Facilities Engineering; Trevor Madison, Environmental Services Manager; Sean Hazlett, Director of Supply Chain; Kim Cooper, Program Manager: Infection Prevention, Employee Health & Safety; Stephanie Gunter, PharmD, Pharmacy Manager; Jennifer Capps, Chief Development & Communications Officer; and Laura Grubb, Compliance Officer. Not pictured: Kevin Keller, Senior Director of Human Resources; Lindsay Roberts, Laboratory Manager; Ashlee Johnson, Culinary & Nutrition Services Manager; Matt Cummings, Culinary & Nutrition Services Supervisor; Jon Hornburg, Senior Accountant, and Won Lee, Database Administrative Analyst.