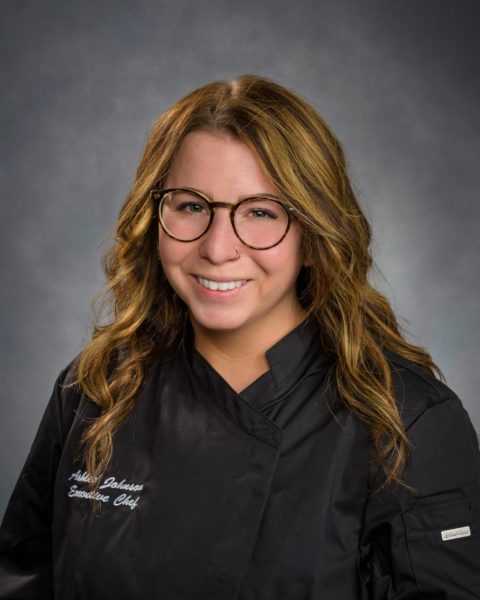 Mason Health promoted Shelton native Ashlee Johnson to Head Chef and Director of Culinary & Nutrition Services in 2022. Johnson has worked at Mason Health in Culinary & Nutrition Services since January 2020, and she brings to her position a radiant positivity and a passion for connecting people with tasty, nutritious food.
"I enjoy making a good impact on people's lives," Johnson said. "I want to make sure everyone has a great quality of life and I love being able to drive that quality. I feel like we are the heart down here in the kitchen and we get to help people have delicious food. It's been incredible getting to know our food vendors and the hard work they do."
Johnson has always been interested in the service industry. A Shelton native for 30 years, she went straight to work after attending schools in the Pioneer and Shelton school districts as an overnight medicine technician at Maple Glen Senior Living. In that role, she worked nightly rounds handing out medicine and making sure everyone was OK. She then worked as a Certified Nursing Assistant at several local nursing homes and assisted living facilities. Later, she provided in-home care for a single patient. After that patient passed away, she wanted a break from health care and entered the restaurant industry, eventually working her way up to sous chef for the McMenamins restaurant chain, under the tutelage of Chef Jeremy Glenn.
"At every job I have had, I have learned something," she said. "The restaurant industry taught me how to be a good worker. Being a CNA is what taught me to be adaptable. It's always been a passion of mine, to serve others."
To Johnson, working at Mason Health in her hometown felt like the best of both the restaurant and the health care worlds. In order to be hired, she needed a high school diploma or GED, which she studied for and received in less than 10 days. She started as a part-time cook in January 2020. Former Chef Cody Shipley motivated her to push forward and kept the staff feeling safe and confident during the onset of the COVID pandemic.
"I had dropped out of high school and was thus limited in the types of jobs I could get my whole life," Johnson said. "I've done it all. I never thought I would have the opportunity I have now. I am feeling proud. I look back at the past 10 to 15 years, and I think, 'Wow, how did I get here?' I feel very grateful for all the people who have encouraged me."

When not working, Johnson plays disc golf for local, state and national teams, and enjoys spending time with her 13-year-old daughter, Lynorah, and husband, Chrys.