Information About COVID-19
COVID-19 Vaccinations, Testing and Safety Precautions
Mason Health Updates as of 8/16/2022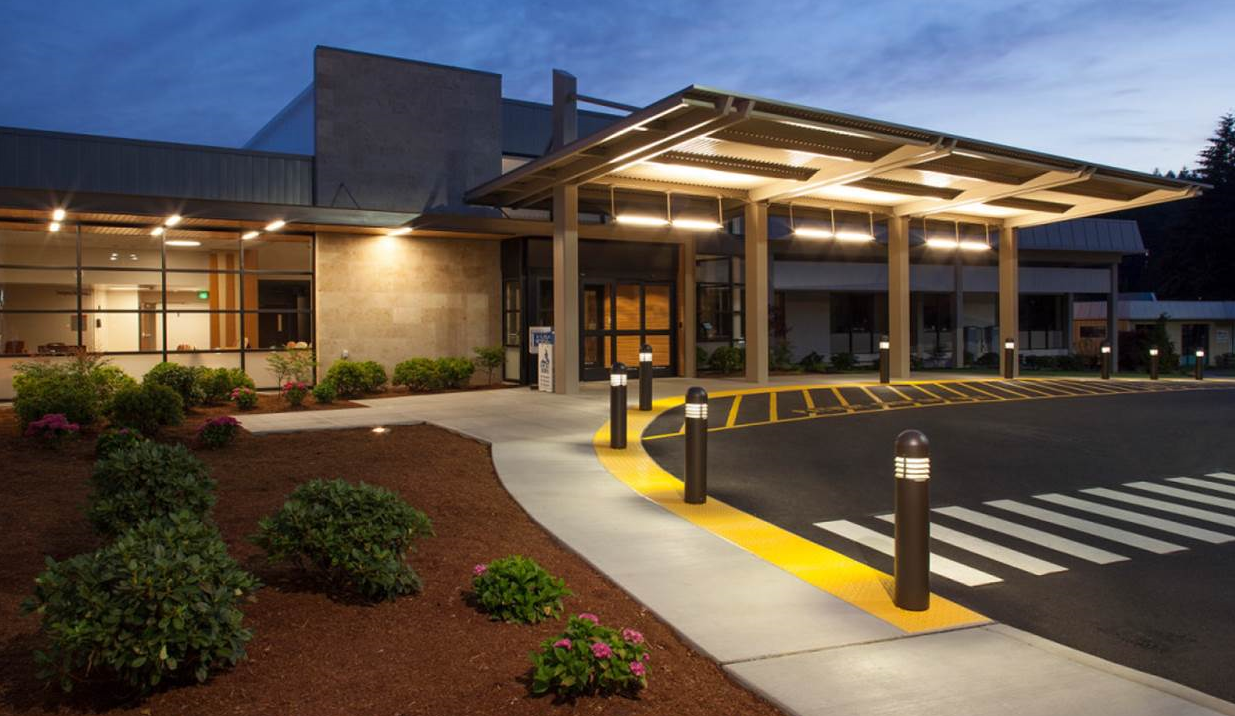 Planning for a visit to Mason Health?
Need a COVID or flu vaccine?
Vaccine appointments, including boosters, for those 6 months and older, are available by calling Mason Clinic at 360-426-2653.
Both Flu and COVID Vaccines are offered at Mason Health's Vaccination/Anticoagulation Clinic. We have a high volume of appointments, so please be patient and expect delays when scheduling. Vaccines can also be scheduled with your primary care provider or at your local pharmacy.
Only patients 12 and older may be seen at the Vaccine Clinic. Patients under 12 should make an appointment with their pediatrician for any vaccination appointments.
For more information on boosters, eligibility and vaccine clinic information, click HERE or the image below.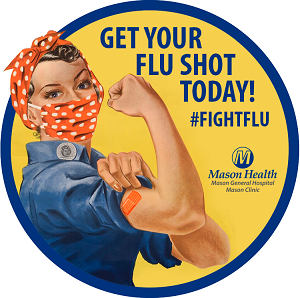 COVID-19 Testing and Treatment:
If you have questions about COVID symptoms or testing please contact your provider's office first.

The COVID treatment clinic is located at the former Oakland Bay Pediatrics building, near the Medicine Shoppe on Professional Way. CONTACT YOUR PRIMARY CARE PROVIDER IF YOU HAVE SYMPTOMS OF COVID-19.
The COVID Clinic is open from 1 to 5 p.m. daily.
About the new Curative COVID-19 Testing Kiosks at Mason Health:
**Appointments may be limited due to high demand, capacity for testing and severe weather conditions.**
Shallow nasal testing is available to all at Curative's testing kiosk at Mason Health.

Testing is available by appointment only. Test results are delivered electronically within 24-48 hours.
Visitor guidelines have been updated to help you prepare for your visit to Mason Health.
Visiting Hours:
Mon-Fri: 10 a.m. to 6 p.m., Sat-Sun: 10 a.m. to 2 p.m.

Cafeteria open for patients and staff only
Current Visitor Guidelines - Medium Transmission Rate:
Mason Clinic: 1 designated caregiver
Hoodsport Family Clinic: 1 designated caregiver
MGH Med/Surg/Peds and Intensive Care Units: 1 designated visitor, with exceptions for end-of-life patients
MGH Birth Center: 2 designated visitors during labor
MGH Emergency Department: 1 designated visitor, with exceptions for end-of-life patients
MGH Surgery: 1 designated visitor who must leave after patient procedure is complete
End-of-Life patients: 2 visitors
Medical Records - Patients are asked to call ahead of time to request information. If you must visit Medical Records in person please call first and remain in your vehicle. Someone will bring the requested information to you.
MGH Foundation & Development Office and Education Department- The offices are open for service and operating by appointment only.

Mason County Public Health Reports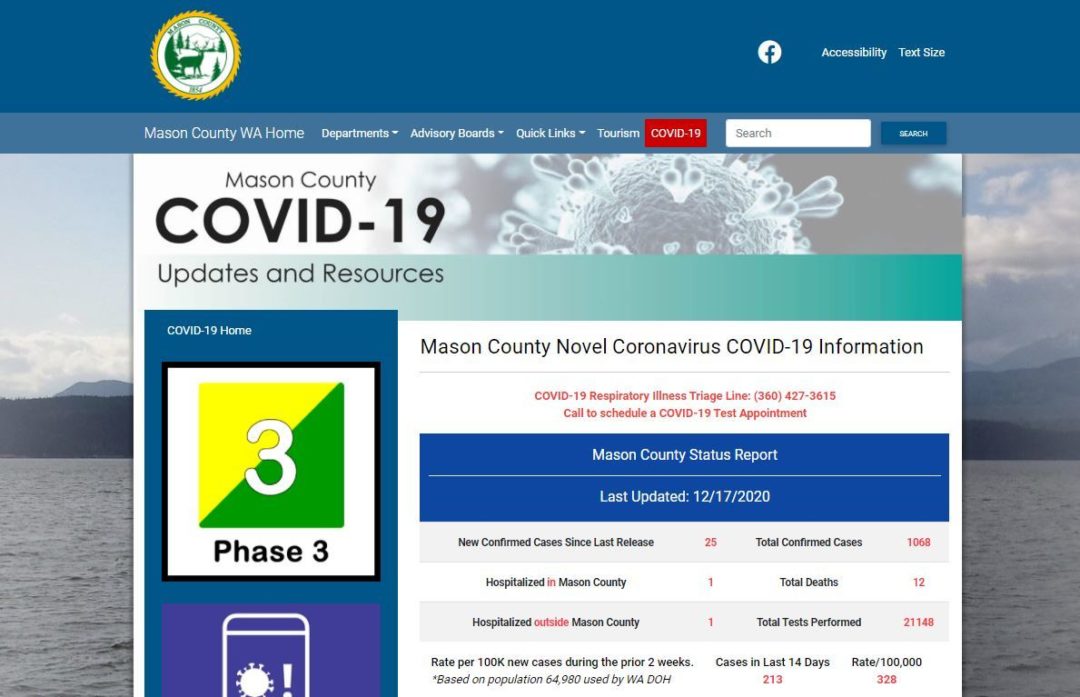 COVID-19 Report as of 8/16/22:


7-Day Case Rate/100,000 population – 179.7

14-Day Case Rate/100,000 population – 446.3

Hospitalizations in county – 2

New cases – 34 2-day (8/10/22 – 8/11/22)

New Deaths – 0

Total Population Vaccinated- 59.9%
See link below for Mason County Status Report information:
https://www.co.mason.wa.us/COVID-19/index.php
For more COVID-19 Statistics please visit:
If you are experiencing fever, cough, sore throat or shortness of breath or have concerns about exposure to COVID-19, it is very important to call contact your physician's office before visiting the hospital or clinic.
If you need to access Mason Health's Emergency Department for respiratory symptoms, please wear a respiratory mask as soon as arriving and continue wearing throughout your visit.
We also urge you to stay home from school or work if you feel sick. Wash your hands frequently with soap and water and avoid touching your eyes, nose and mouth.
Please call ahead before coming in person to one of our physician clinics, urgent care centers or emergency departments. You can find phone numbers for our providers and locations at https://www.masongeneral.com/find-a-provider.
To limit the person-to-person spread of the virus and to protect our most medically vulnerable community members, we ask you to avoid unnecessary visits to Mason General Hospital, Mason Clinic and our other clinics.
Mason Health's Safe Care Videos:
Es Seguro Recibir Atención: Conozca a los Proveedores: Dr. Ben May, DO. Learn about safe care practices at Mason Health in this Spanish video catered to our Hispanic patients. Click HERE.
Video de Educación en Mam Sobre COVID-19: Learn about the COVID-19 testing process in this Mam video catered to our Guatemalan patients. Click HERE to view the video.
Sabrina Nelson, RN, Emergency Department Director, and Dean Gushee, MD, Chief Medical Officer, walk through what happens when a patient with COVID symptoms is brought to the Emergency Department. Click here to view the video.
Sharon Reclusado, RN, and Lacy Eveland, RN discuss safety measures at Mason General Hospital. Click here to view the video.
Dean Gushee, MD, Chief Medical Officer, talks about safe health care practices and visitor guidelines at Mason Health. Click here to view the video.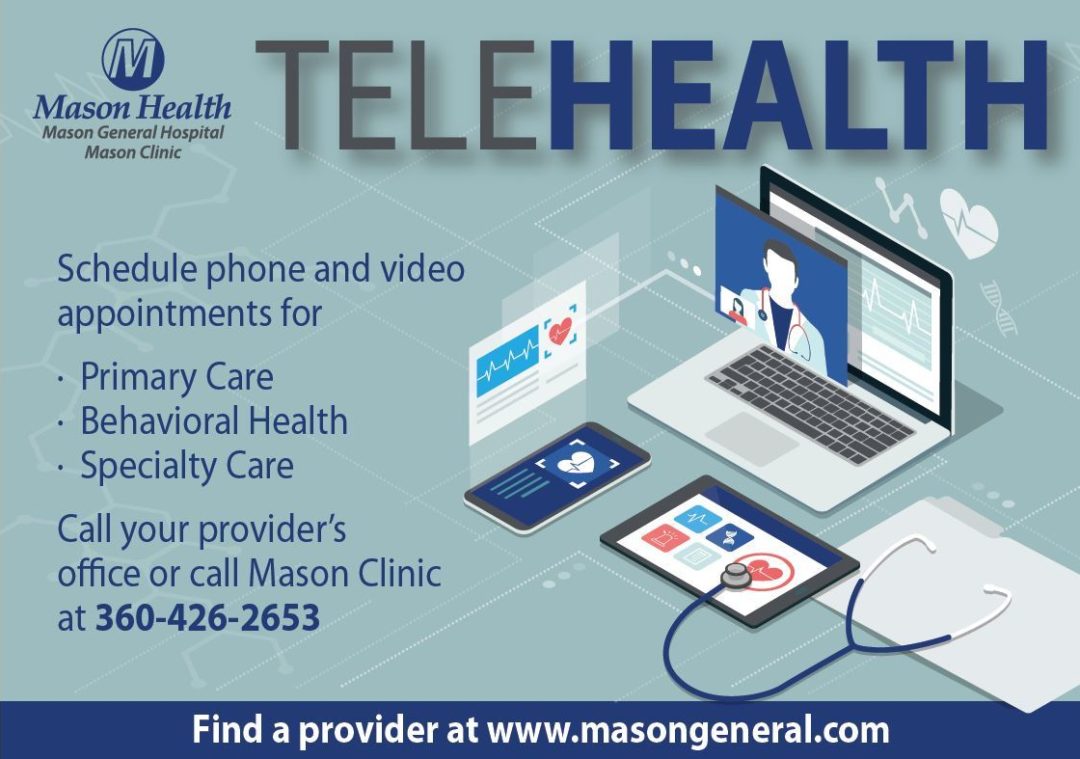 Notice of Closures and Meeting Cancellations
Mason Health has cancelled all community meetings and groups that meet at Mason General Hospital, Mason Clinic and Mason Clinic Hoodsport Primary Care until further notice.

The Mason General Hospital Foundation Auxiliary Gift Shop will be closed until further notice.
The Mason General Hospital Cafeteria is open to authorized visitors only. We apologize for any inconvenience this may cause.
The Foundation and Development Office and Learning Center are open by appointment only.
The Medical Records office is open, but patients are encouraged to call for their records ahead of time. If arriving in person, please remain in your vehicle and call for assistance. Someone will bring your requested information to you.
The Business Office/Patient Accounts Office is open and patients arriving in person are encouraged to call first and adhere to all safety precautions while on Mason Health property.
Get department or office contact information from the Directory on our Visit Us page. Thank you for understanding and please be safe and well!
Important Links and COVID-19 Resources
If you have questions that cannot be answered by referencing the resources above, call the Washington DOH Corona Virus Hotline at (800) 525-0127 and press #.
FAQ
What are the symptoms of COVID-19?
What do I do if I have symptoms?
Should I be tested for COVID-19?
Am I high-risk for COVID-19?
Is it safe for me or my loved one to receive care at Mason Health?
How is Mason Health protecting high-risk patients?
How do I keep myself or my family safe?
Will my appointment/surgical procedure proceed as planned?
How do I schedule an appointment with my health care provider?
Should I wear a mask to protect myself?
When will classes be rescheduled?
What if I don't have health insurance?
How do I make a donation to Mason Health? I have resources to contribute (volunteers, buildings, PPE, hand sanitizer, etc.)
>
Downloads and Documents for Viewing