Information About COVID-19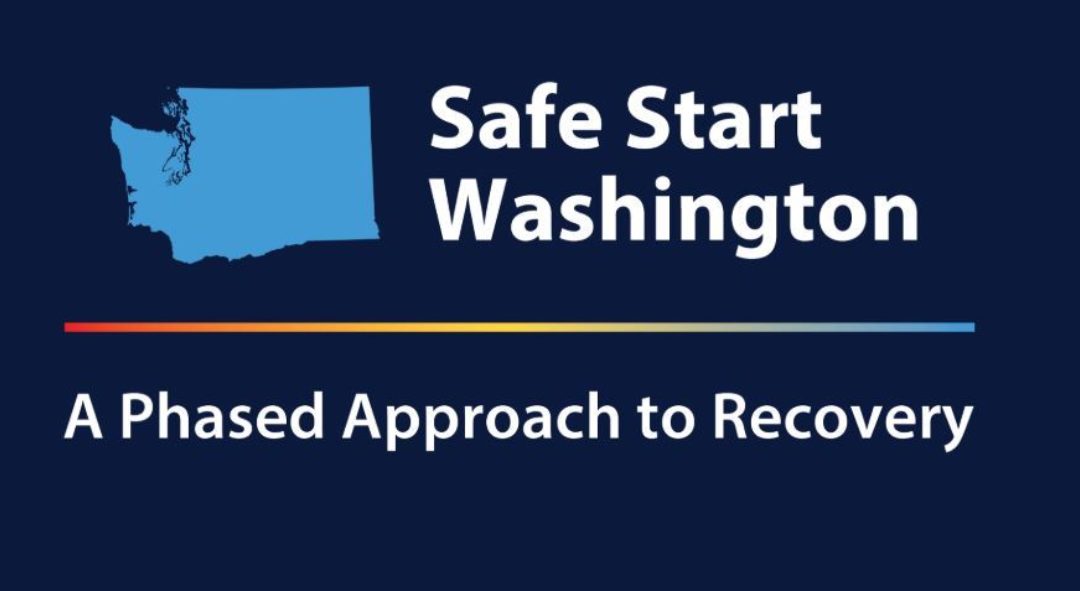 Phase 2 Approval Information as of May 26, 2020. Please click on the links below.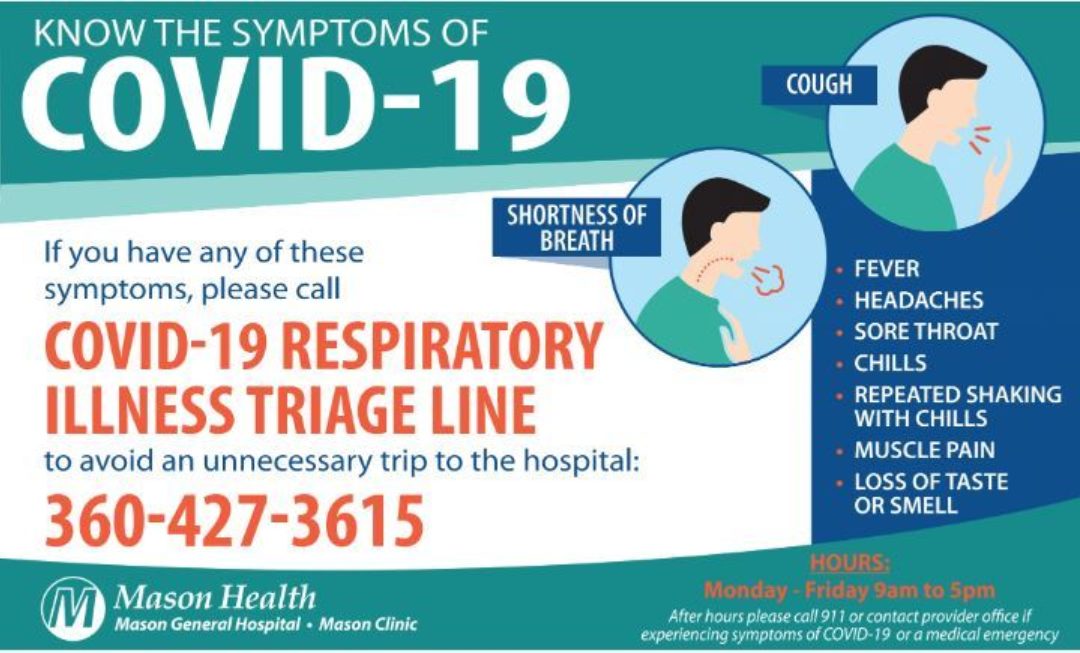 If you are experiencing fever, cough, sore throat or shortness of breath or have concerns about exposure to COVID-19, it is very important to call the COVID-19 Respiratory Triage Call Line - (360) 427-3615 before visiting the hospital or clinic.
If you need to access Mason Health's Emergency Department for respiratory symptoms, please wear a respiratory mask as soon as arriving and continue wearing throughout your visit.
We also urge you to stay home from school or work if you feel sick. Wash your hands frequently with soap and water and avoid touching your eyes, nose and mouth.
Please call ahead before coming in person to one of our physician clinics, urgent care centers or emergency departments. You can find phone numbers for our providers and locations at https://www.masongeneral.com/find-a-provider.
To limit the person-to-person spread of the virus and to protect our most medically vulnerable community members, we ask you to avoid unnecessary visits to Mason General Hospital, Mason Clinic and our other clinics.
Individuals who:
• are classified as having a higher risk of getting very sick
• are in close contact to those with a higher risk
• are exhibiting any signs of ill health (fever, cough, sniffles, etc.)
should make an effort to stay home if possible. Our patients and the community's health is a top priority for Mason Health.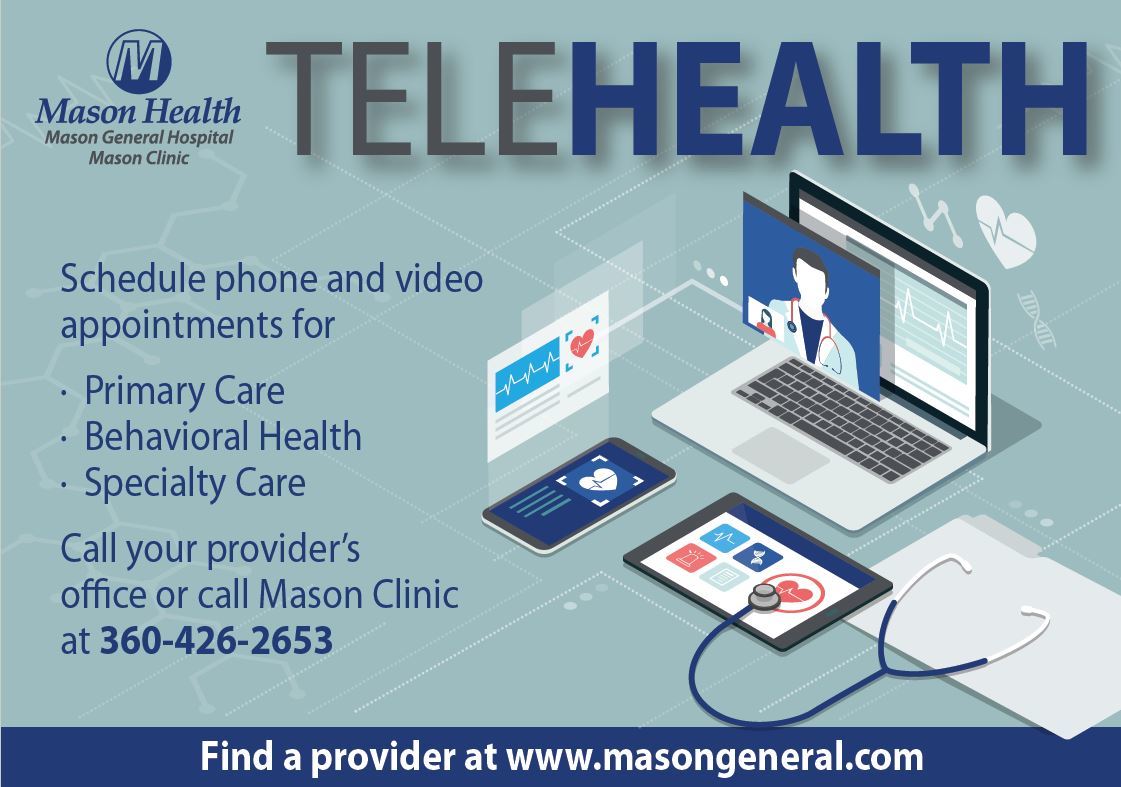 In response to COVID-19, Mason Health has launched telehealth visits! Starting March 31, patients will be able to schedule phone and video consultations with their primary care, behavioral health and specialty care providers.

Mason Health is pleased to announce interpreter services are now available for use during your Zoom Telehealth Audio/Visual (A/V) Clinic Office Visits.
Call your provider for more details. Mason Clinic providers can be reached at 360-426-2653.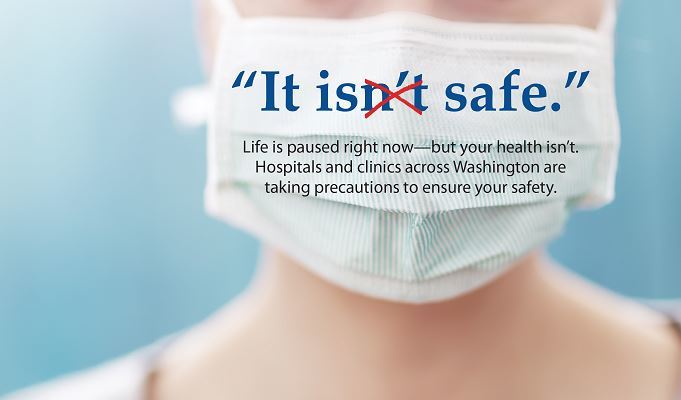 Mason Health has teamed up with more than 100 hospitals across the state to support the launch of Washington State Hospital Association's (WSHA) campaign urging members of our communities not to put their health care on pause during the COVID-19 pandemic.
Clinics and health care systems across the state have reported abnormally low volumes of patients seeking routine medical care. At the same time, visitors to the emergency department are arriving with more severe illness, having delayed care. This educational campaign is aimed at addressing the concerns keeping people from seeking appropriate care.
Learn more from our Press Release and on the WSHA website.
Visitors, Hours and Service Changes
Hospital Visiting Hours by appointment only for Birth Center and End-of-Life patients. Only one visitor permitted in these two instances.
Mason General Hospital Main Entrance: Mon-Fri: 6 to 6 p.m., Sat: 9 a.m. to 3 p.m., closed to the public on Sundays
Mason Clinic: Mon–Fri: 7:30 a.m. to 5 p.m. - No Saturday Hours.
MGH Olympic Physicians: Mon–Fri: 7:30 a.m. to 5 p.m.
Mason Clinic Lab: Mon-Fri: 7:30 a.m. to 6 p.m.
Mason Clinic Walk-In: Mon-Fri: 8:30 a.m. to 6 p.m., Sat/Sun: 10 a.m. to 5 p.m.
---
Visitor Guidelines
(Updated 4/7/20, Subject to change without notice)
No children under 18.
All Patients/Visitors Must Wear A Mask When Entering
Birth Center patients enter through the Birth Center back door and not through the main areas of the hospital. Follow the signs on the north side of the building (Emergency Department side). Call 360-427-9558 before your arrival. One visitor allowed.
Anticoagulation services and pregnancy ultrasounds have been relocated to the former MGH Surgery Clinic at 1710 N. 13th Street in Shelton.
For patients at end-of-life, we are allowing one visitor at a time.
We request that you wash your hands often with soap and water and wear a mask at all times.
Contact ICU at 360-427-9540 or MSP at 360-427-9542.
To Read or Download English and Spanish Masking Flyers please see below.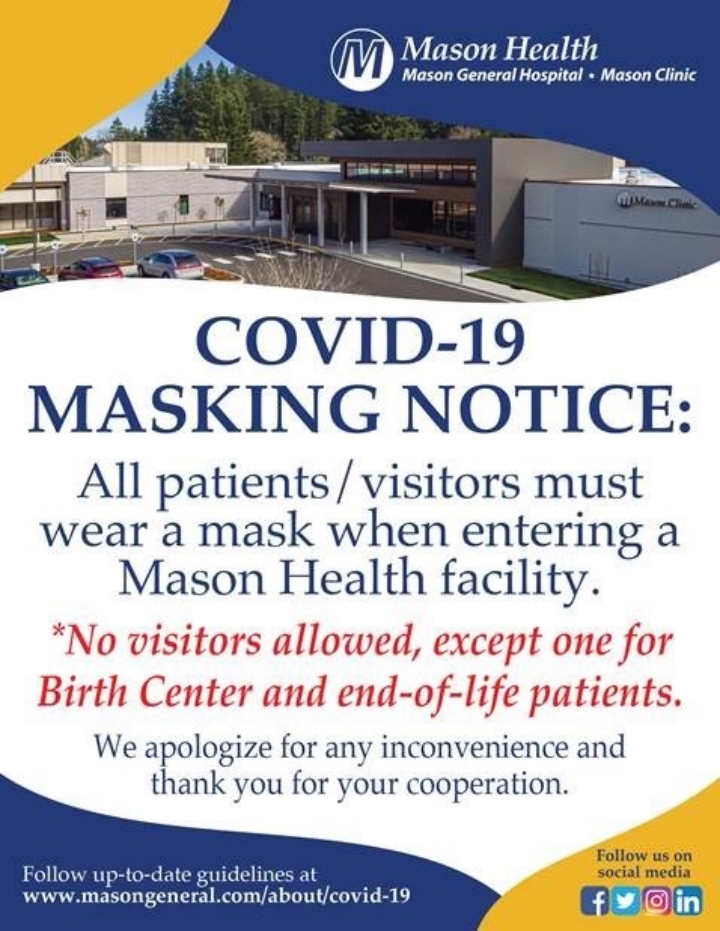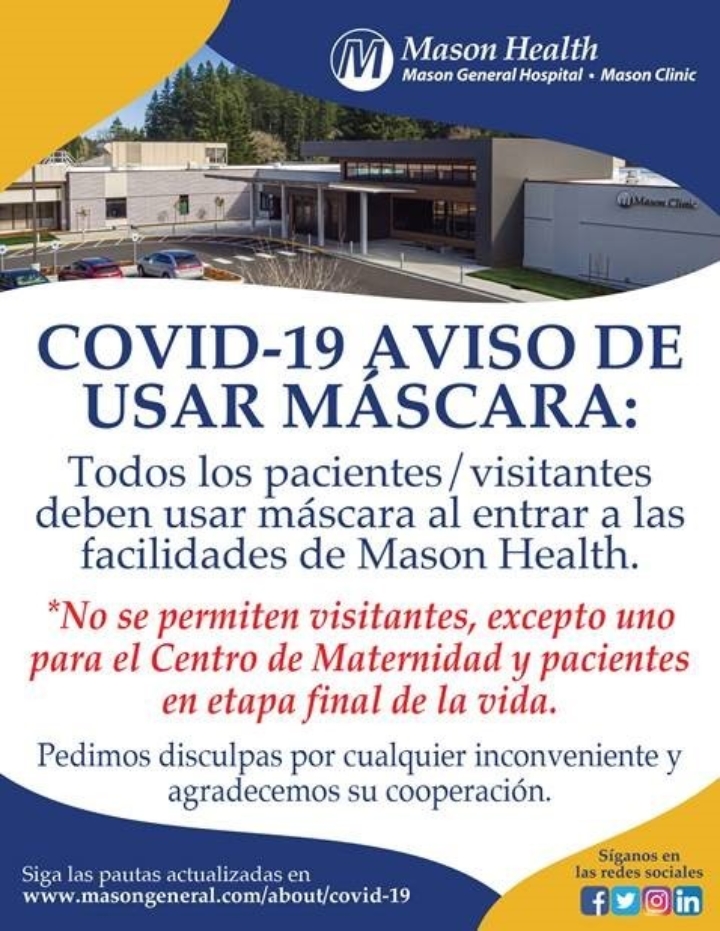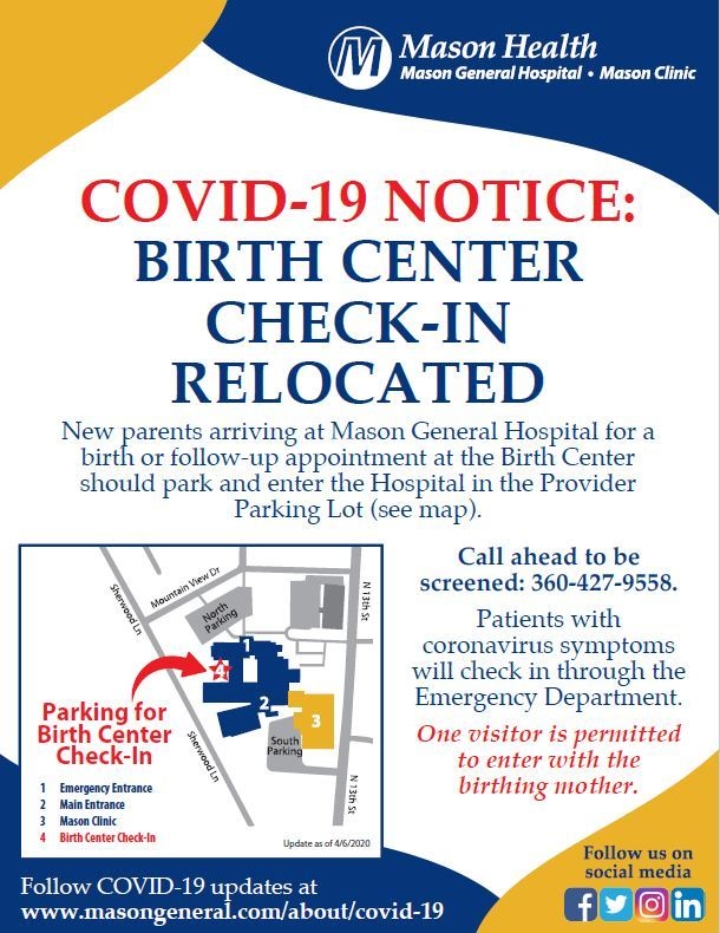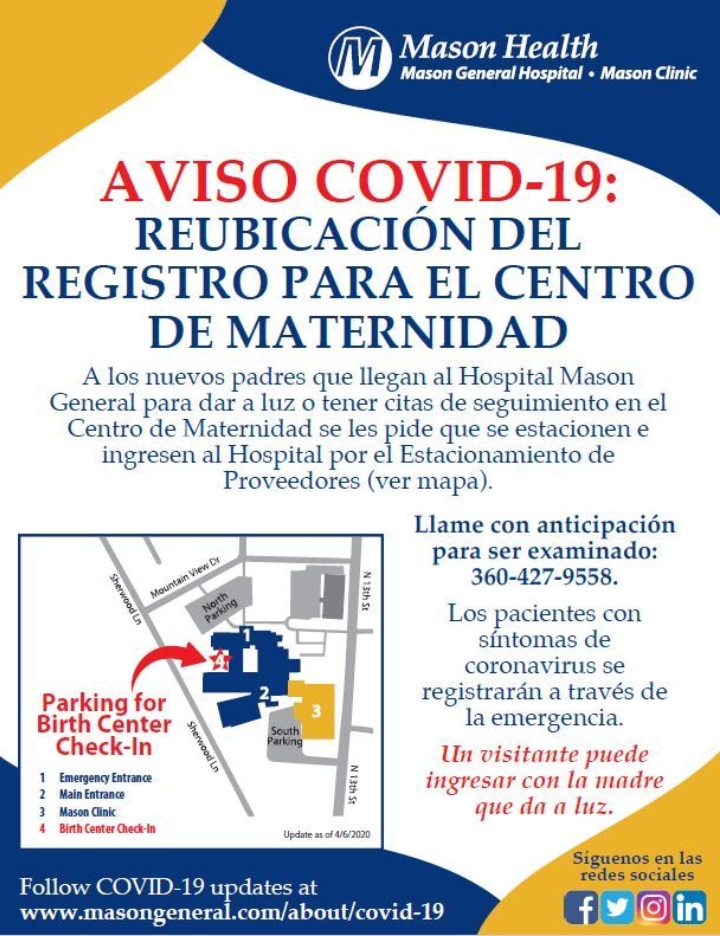 Notice of Closures and Meeting Cancellations
In light of the current concerns around the COVID-19 virus, Mason Health has cancelled all community meetings and groups that meet at Mason General Hospital, Mason Clinic and MGH Hoodsport Family Clinic until June 1, 2020. Please note that this could change at any time.

The Mason General Hospital Foundation Auxiliary Gift Shop will be closed until further notice, starting Monday, March 16.
The Mason General Hospital Cafeteria will be closed to the public until further notice, starting Monday, March 16. The cafeteria will still service patients and staff. We apologize for any inconvenience this may cause.
The Business Office and Patient Accounts, Medical Records Office, Foundation and Development Office and Learning Center are also closed to the public at this time, but patients may still access services.
Visit the Downloads section at the bottom of the page for contact information on specific departments.
Important Links and COVID-19 Resources
If you have questions that cannot be answered by referencing the resources above, call the Washington DOH Corona Virus Hotline at (800) 525-0127 and press #.
Mason Health in collaboration with CPAA wants to make the community aware of resources to access dental care for those that have an urgent dental care needs and are experiencing the physical and financial impact of the COVID-19 pandemic.
The Arcora Foundation has provided oral health education resources, including oral health messaging in telehealth visits at https://wp.me/a94A2N-1di. There is also information on urgent oral health care, DentistLink, and when patients need to see a dentist at https://wp.me/a94A2N-1dj.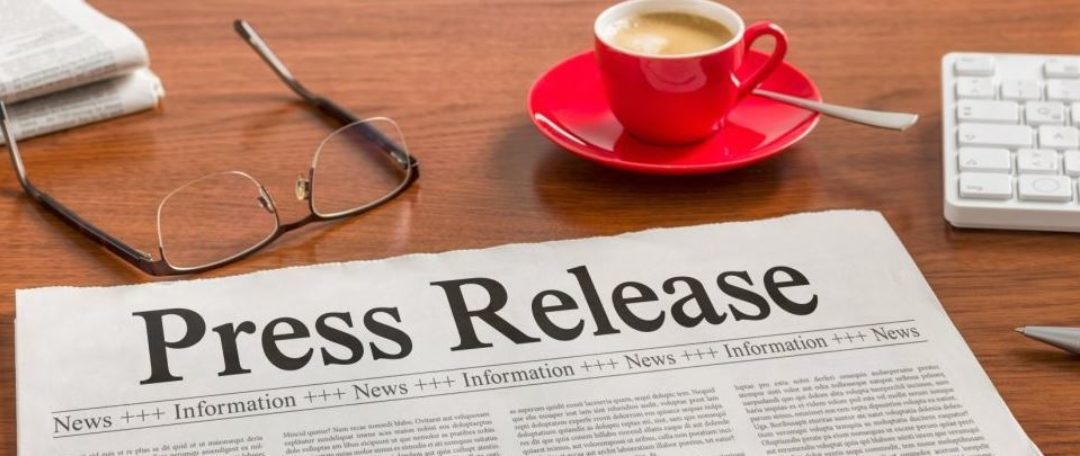 FAQ
What are the symptoms of COVID-19?
What do I do if I have symptoms?
Should I be tested for COVID-19?
Who is tested for COVID-19?
Am I high-risk for COVID-19?
Has anyone tested positive for COVID-19 at Mason Health?
What is the treatment for COVID-19?
Is it safe for me or my loved one to receive care at Mason Health?
How is Mason Health protecting babies, new mothers, pregnant and other high-risk patients?
Is it safe for me to visit my loved one at Mason General Hospital?
How do I keep myself or my family safe?
I have an appointment scheduled at a clinic. Should I cancel it?
Will my appointment/surgical procedure proceed as planned?
How do I schedule an appointment with my health care provider?
Should I wear a mask to protect myself?
When will classes be rescheduled?
Is Mason Health prepared to care for patients with COVID-19?
What if I don't have health insurance?
How do I make a donation to Mason Health? I have resources to contribute (volunteers, buildings, PPE, hand sanitizer, etc.)
>
Downloads and Documents for Viewing