Information About COVID-19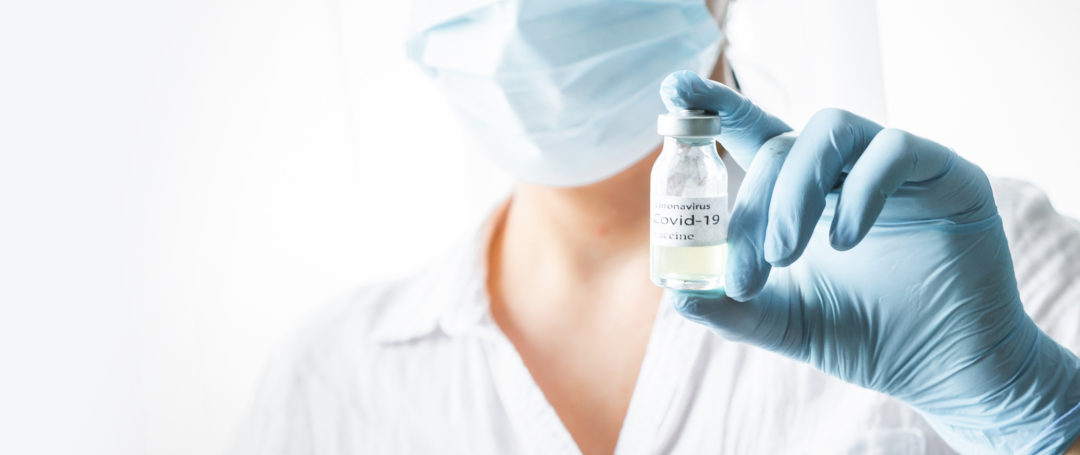 Vaccine Qualification, Scheduling Vaccinations Online and Public Vaccination Events - Update as of 4/16/2021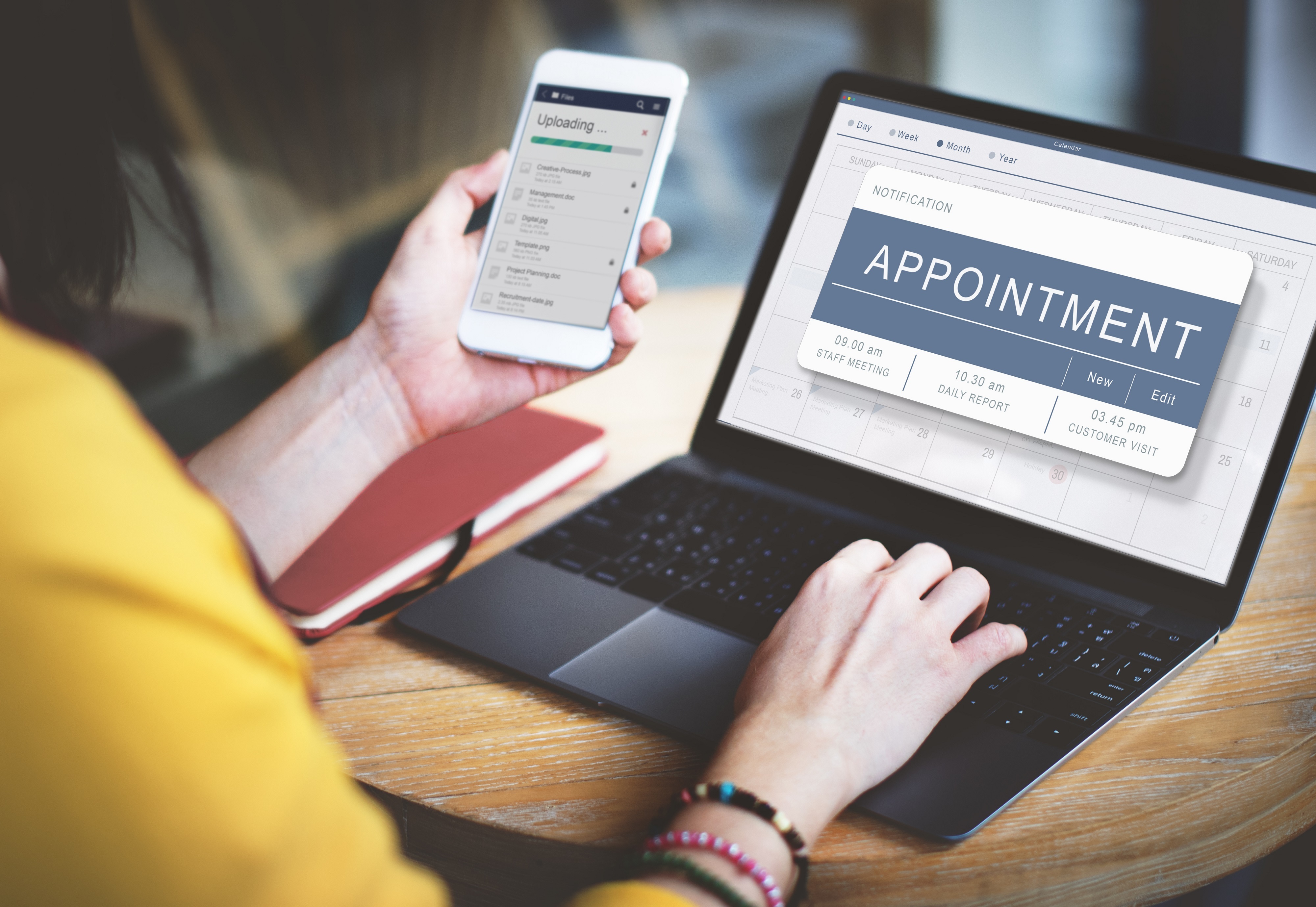 Access to Vaccines & Eligibility, New Online Scheduling of Appointments and Vaccination Events

Effective April 15, all Washingtonians over the age of 16 will be eligible to receive a COVID-19 vaccination. Note, each vaccine type has age and access limitations.
**NEW! Eligible people may schedule a vaccine appointment at our Vaccine Clinic at https://calendly.com/masonhealth**
To ensure equity, we are supporting both scheduling Mason Health patients, Mason County residents and the general public via our partnership with Public Health, pre-scheduled community outreach events and our new online registration system. If you know someone having a hard time signing up for an appointment using a computer, please contact the Mason County Senior Center at (360) 426-7374. Mason Health is providing regular vaccine clinics at the Senior Center.

If You Are Scheduled for a Vaccine:

Please fill out the COVID-19 VACCINE CONSENT FORM and bring it with you to your scheduled appointment. If you are unable to bring this form with you, it will be provided and given to you at the time of your appointment. Spanish Consent Forms are also available: Vacuna Contra el COVID-19 Formulario de Consentimiento.
Be prepared to stay an additional 15 minutes after your vaccination for monitoring.
Review informational links about the Pfizer and Moderna vaccines in the "Downloads" section (scroll to bottom of page). We are currently offering the Moderna vaccine from the Vaccine Clinic and Mason Clinic. We are offering the Pfizer vaccine for offsite vaccine clinics.
Click VSafe for Information about the after vaccination health checker
As demand is high and vaccine availability is limited, you may experience wait times in getting an appointment. Our goal is to work with the county to get all eligible community members vaccinated as quickly as possible, while recognizing the roll-out will take time. Please know that we are eager to vaccinate our patients and community members, we appreciate your understanding and patience.
COVID-19 information and message lines are available through Mason County: (360) 427-9670, Extension 599 and Mason Health: (360) 427-2395

Mason County Public Health's Community Vaccination Events:

Mason Health is supporting Mason County Public Health's planned mass vaccination drive-thru clinics.
Registration is open for a 1st dose vaccination clinic on April 15, 2021.
This will be the MODERNA Vaccine. You must be 18 years or older to register for this clinic.

Follow the link below for information about opportunities to sign up for Mason County's mass vaccination clinics.
https://www.co.mason.wa.us/COVID-19/vaccination-information.php

Please be sure to check the Mason County website or call the Mason County COVID-19 Vaccine Information Recorded Message at 360-427-9670 Ext. 599 for regularly updated information.
Drive-thru mass vaccination clinics will be scheduled weekly as vaccine is allotted. Mason County's website will be updated late Friday afternoons with the upcoming clinic date and information about how to register.
Mason County is given the number of vaccines available for distribution every Friday from the state. If vaccine is available, registration will begin at 9:30 AM on Mondays.
Due to the high volume of people registering for the mass vaccination clinics, registration can close in as little as 10 minutes.

Mason Health is updating this site regularly. In the meantime, follow all recommendations to stop the spread of COVID-19: wear your mask, social distance, and frequently wash your hands. Thank you and please be healthy and well!
MasonWebTV interviewed Nicole Eddins, PharmD, Mason Health Senior Director of Ancillary Services, about Mason County's mass vaccination events at the Ridge Motorsports Park. Details about mass vaccine events can be found on Mason County's vaccine website.
For more information about the state guidelines, vaccination phases, vaccination events or other questions, please go to CovidVaccineWA.org, the Mason County Public Health (co.mason.wa.us), in addition to Mason Health's website and social media sites. You can also call the state's COVID-19 Assistance Hotline at 1-800-525-0127.

Washington State Department of Health along with the assistance from the Washington National Guard and local and private sector partners, is launching four mass vaccination sites across the state for people eligible for the COVID-19 vaccine under Phase 1A or Phase 1B tier 1 (PDF): Spokane, Ridgefield, Wenatchee and Kennewick. Locations will be appointment only and appointments must be made in advance.
COVID VACCINE Q & A
Learn more about Mason Health's COVID-19 vaccine rollout in this Q&A document. Click the image below or click HERE.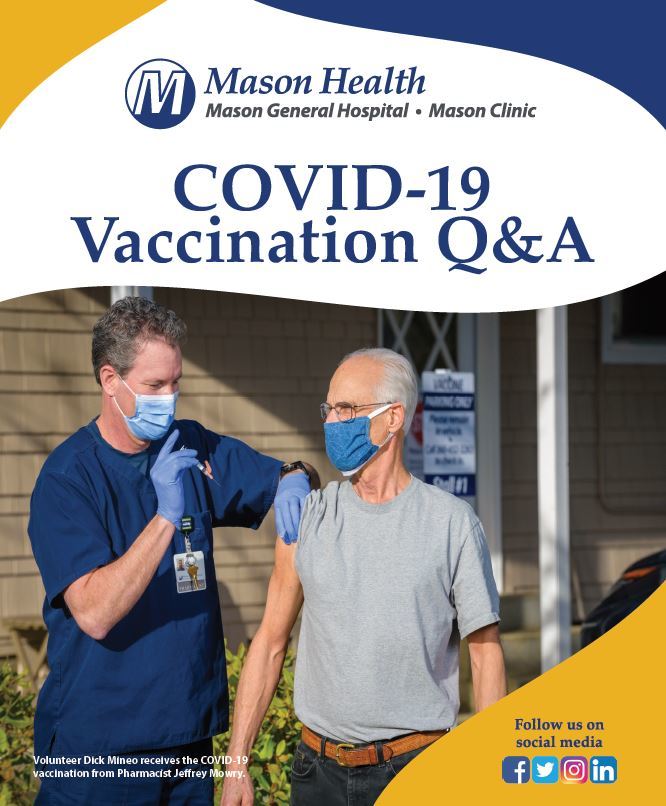 Testing & Safe Care Information
COVID-19 testing is now indoors at the same site near the Medicine Shoppe and Oakland Bay clinic. The hours are 12:30 p.m. - 4 p.m., M-F. Call the Triage Line at 360-427-3615 for an appointment.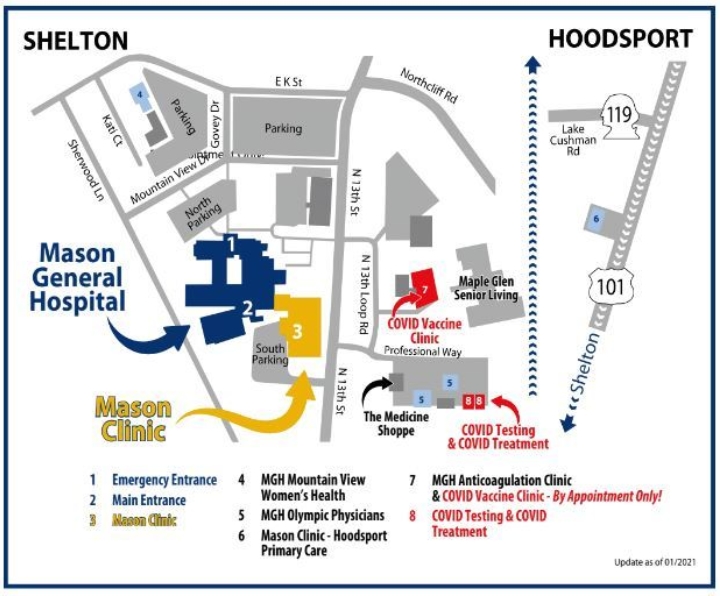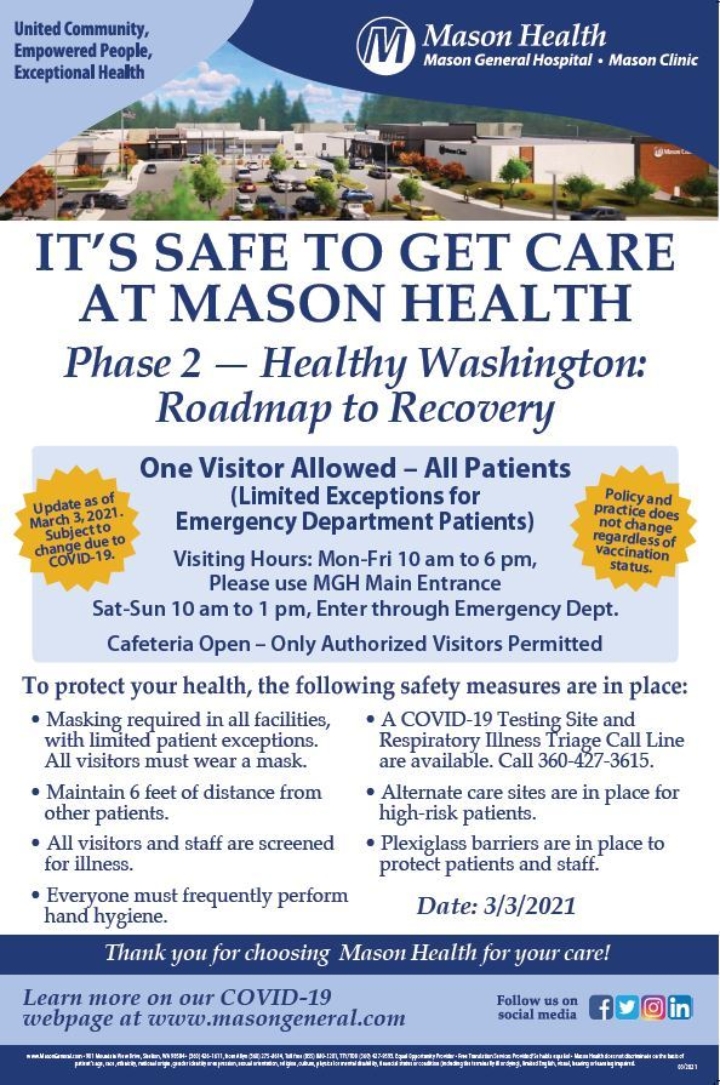 Mason County Public Health Reports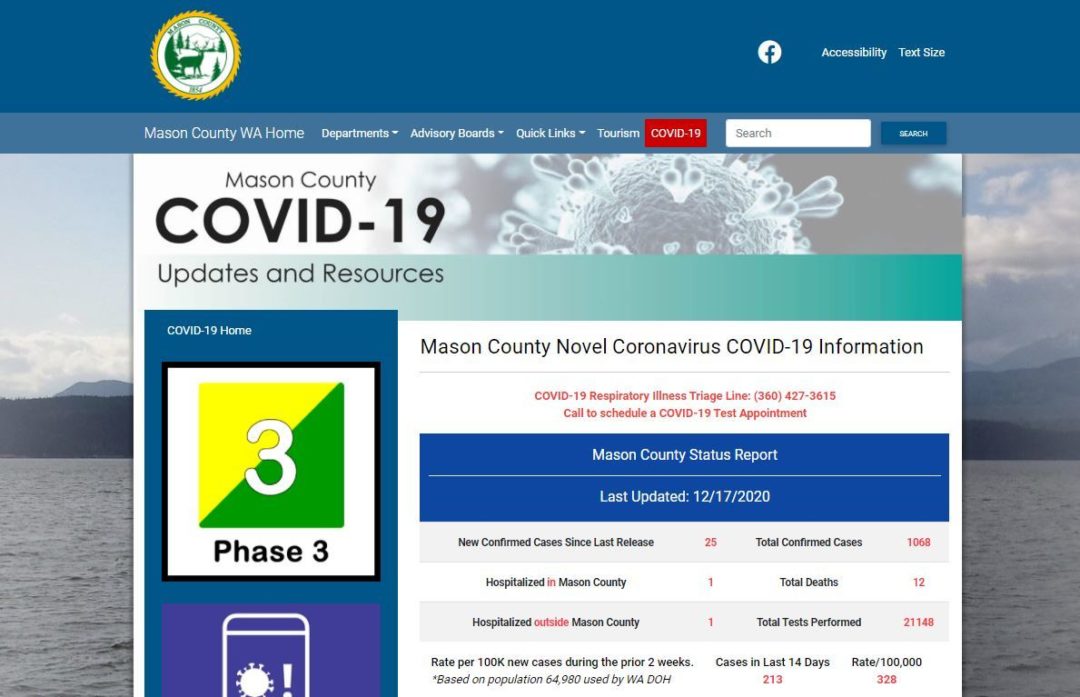 Twelve (12) Positive COVID-19 Case in Mason County as of 4/16/2021 at 4 p.m.
See website link for more information - https://www.co.mason.wa.us/COV...

Vaccine Phase Finder App:
DOH also announced the beginning of Phase Finder, an online tool that allows people to assess their eligibility for the COVID-19 vaccine. It's being tested now and will launch broadly January 18, 2021. Phase Finder will be available in multiple languages and will be used to confirm individual eligibility for the COVID-19 vaccine. Vaccine providers and immunization programs will also be able to use Phase Finder to do assessments of vaccine need by zip code.
State's Vaccine Dashboard:
In partnership with Microsoft, DOH will introduce the new vaccine dashboard, which will be the state's main source for regular vaccine data reporting. The dashboard will include vaccine ordering and administration data, including breakdowns by county and by demographics. It should be updated three times a week. Look for the dashboard to launch next week.
Vaccine Provider and Community Resources:
DOH has recently added several new online tools and resources for both COVID-19 vaccine providers and the public.
To get more information, please visit the downloads section below.

To view all reports from Mason County All Hazard social media site, click HERE.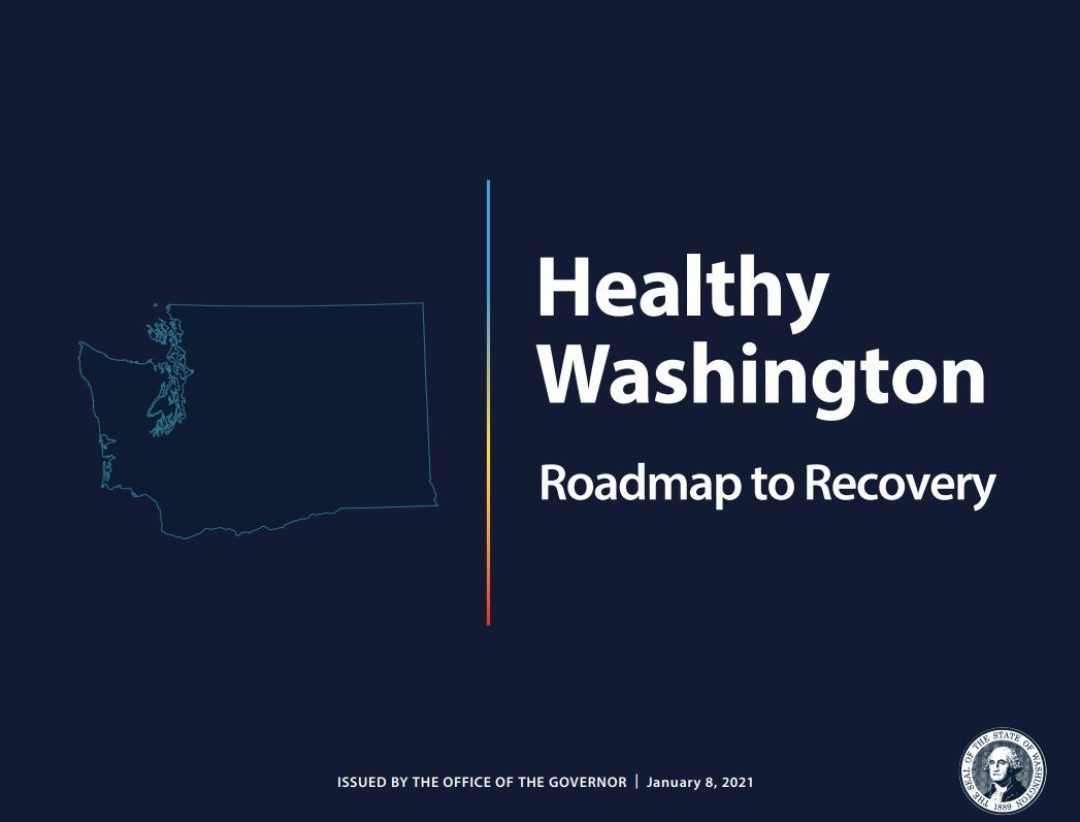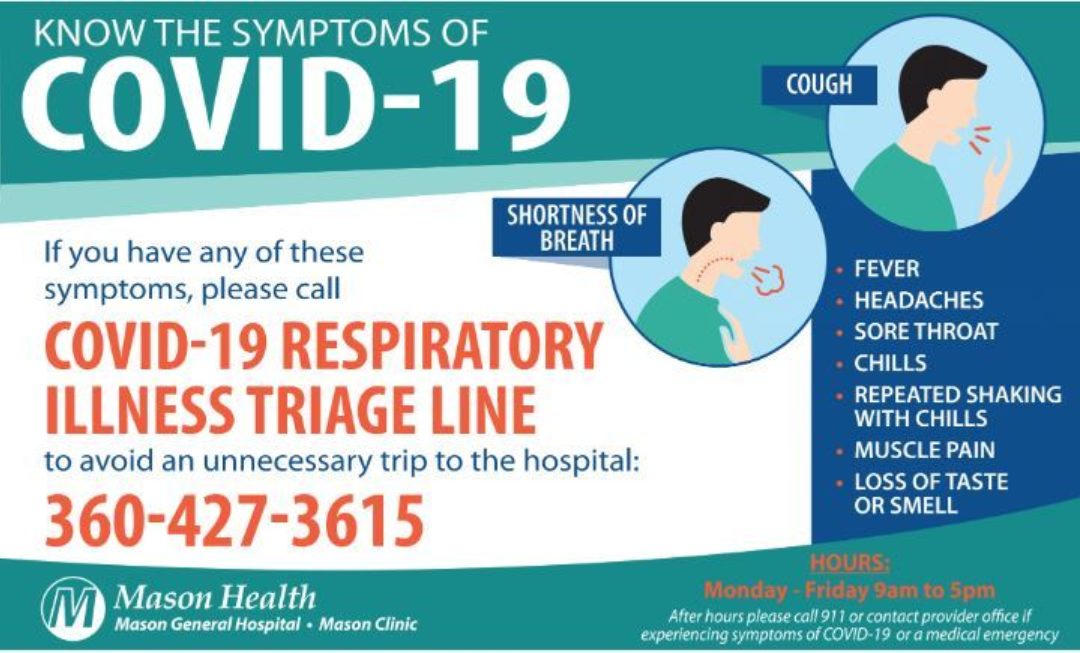 If you are experiencing fever, cough, sore throat or shortness of breath or have concerns about exposure to COVID-19, it is very important to call the COVID-19 Respiratory Triage Call Line - (360) 427-3615 before visiting the hospital or clinic.
If you need to access Mason Health's Emergency Department for respiratory symptoms, please wear a respiratory mask as soon as arriving and continue wearing throughout your visit.
We also urge you to stay home from school or work if you feel sick. Wash your hands frequently with soap and water and avoid touching your eyes, nose and mouth.
Please call ahead before coming in person to one of our physician clinics, urgent care centers or emergency departments. You can find phone numbers for our providers and locations at https://www.masongeneral.com/find-a-provider.
To limit the person-to-person spread of the virus and to protect our most medically vulnerable community members, we ask you to avoid unnecessary visits to Mason General Hospital, Mason Clinic and our other clinics.
Mason Health's Safe Care Videos:
Es Seguro Recibir Atención: Conozca a los Proveedores: Dr. Ben May, DO. Learn about safe care practices at Mason Health in this Spanish video catered to our Hispanic patients. Click HERE.
Dean Gushee, MD, Chief Medical Officer, talks about safe health care practices and visitor guidelines at Mason Health. Click here to view the video.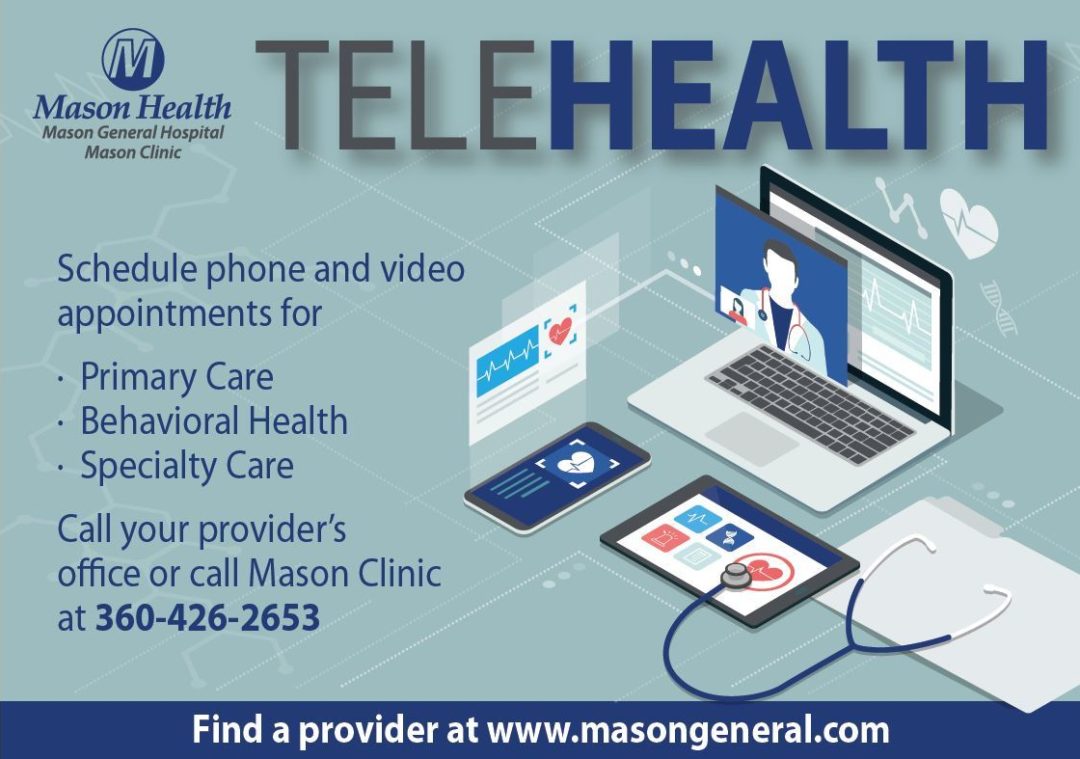 Visitors, Hours and Service Changes
Testing: Mon-Fri: 12:30 p.m. to 4 p.m., Monday through Friday
COVID Clinic: Mon-Fri: 12:30 p.m. to 4 p.m., Monday through Friday
Mason Clinic: Mon–Fri: 7:30 a.m. to 5 p.m. - No Saturday Hours.
MGH Olympic Physicians: Mon–Fri: 7:30 a.m. to 5 p.m.
Mason Clinic Lab: Mon-Fri: 7:30 a.m. to 6 p.m.
Mason Clinic Walk-In: Mon-Fri: 8:30 a.m. to 6 p.m., Sat/Sun: 10 a.m. to 5 p.m.
---
Visitor Guidelines
(Updated 3/3/2021, Subject to change without notice)
1 visitor allowed. Limited exceptions for Emergency Department patients.
No children under 18.
All Patients/Visitors Must Wear A Mask When Entering
Birth Center patients enter through the Birth Center back door and not through the main areas of the hospital. Follow the signs on the north side of the building (Emergency Department side). Call 360-427-9558 before your arrival.
Anticoagulation services have been relocated to the former MGH Surgery Clinic at 1710 N. 13th Street in Shelton.
We request that you wash your hands often with soap and water and wear a mask at all times.
Contact ICU at 360-427-9540 or MSP at 360-427-9542.
Notice of Closures and Meeting Cancellations
In light of the current concerns around COVID-19, Mason Health has cancelled all community meetings and groups that meet at Mason General Hospital, Mason Clinic and Mason Clinic Hoodsport Primary Care until further notice.

The Mason General Hospital Foundation Auxiliary Gift Shop will be closed until further notice.
The Mason General Hospital Cafeteria will be closed to the public until further notice. The cafeteria will still service patients and staff. We apologize for any inconvenience this may cause.
The Foundation and Development Office and Learning Center are open by appointment only.
The Medical Records office is open, but patients are encouraged to call for their records ahead of time.
Visit the Downloads section at the bottom of the page for contact information on specific departments.
Important Links and COVID-19 Resources
If you have questions that cannot be answered by referencing the resources above, call the Washington DOH Corona Virus Hotline at (800) 525-0127 and press #.
FAQ
What are the symptoms of COVID-19?
What do I do if I have symptoms?
Should I be tested for COVID-19?
Who is tested for COVID-19?
Am I high-risk for COVID-19?
Is it safe for me or my loved one to receive care at Mason Health?
How is Mason Health protecting high-risk patients?
How do I keep myself or my family safe?
Will my appointment/surgical procedure proceed as planned?
How do I schedule an appointment with my health care provider?
Should I wear a mask to protect myself?
When will classes be rescheduled?
What if I don't have health insurance?
How do I make a donation to Mason Health? I have resources to contribute (volunteers, buildings, PPE, hand sanitizer, etc.)
>
Downloads and Documents for Viewing